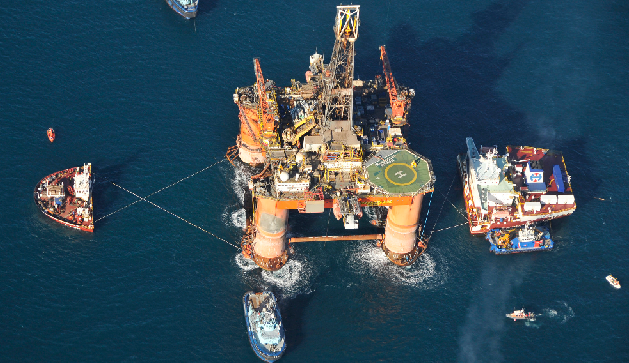 The Transocean Winner rig has been safely loaded onto the semi-submersible heavy lift ship HAWK.
The Hawk has deballasted and the rig is now clear of the water.
The MCA verification aircraft was on scene yesterday and no pollution was sighted or reported. However late yesterday some leakage was spotted in the water – this is believed to have been a maximum of 50 litres of hydraulic or gear oil. It's thought to have come from a damaged part of the rig and appropriate counter-pollution measures were taken.
A further check flight by the MCA aircraft today over the Hawk and the wider area across Broad Bay has found no further oil.
Vessels with counter pollution equipment will remain on scene until there is no longer any threat of a release from the damaged sponsons.
Preparations are being made today to commence the sea fastening operations, Assessment of the damage has begun today and other work is starting to prepare the Hawk for her passage to Malta. This could take four or five days to be completed.
Hugh Shaw, Secretary of State's Representative Maritime and Salvage Intervention, said: 'I'm delighted that after so much work and effort that the operation to load the Transocean Winner has been successful.
'We're so grateful to the community in the area for being so supportive from the time the rig first grounded in August right through this long process.'
// <![CDATA[ google_ad_client = "pub-8789619055654824"; /* 300x250, created 11/13/09 */ google_ad_slot = "3809754592"; google_ad_width = 300; google_ad_height = 250; // ]]&gt;<script src="http://pagead2.googlesyndication.com/pagead/show_ads.js" type="text/javascript">// <![CDATA[ // ]]&gt;</script>
Hebrides Today brings you the latest news from the Western Isles