VENISON STEW
6lb haunch of venison
8oz bacon lardons
2 oz butter
2 tbs olive oil
salt and pepper to taste
1 bottle of red wine
4 tbs olive oil
2 carrots finely chopped
4 shallots, peeled and finely chopped
8 black peppercorns
couple sprigs fresh rosemary
1 bay leaf
slowly cook the carrots and shallots in a large pot till soft
add the rest of the ingredients
put the venison in and leave to marinade at least 12 hours
turning now and again
After 12 hours remove meat and dry on kitchen roll.
place oil and butter into large oven-proof dish with a lid
brown the bacon lardoons
Add meat and brown on all sides
boil the marinade until reduced by half strain and pour over the meat
cook in the oven 170 c/375 f 25 minutes per 1lb
DRUNKEN CRUMBLE
1½ pounds rhubarb
1tbs grated lemon zest
6 tbls whiskey.
4 oz demerara sugar
1 tsp of mixed spices
1tbs orange zest
crumble mixture
6 oz plain flower
3 oz butter
3 oz caster sugar
Grated rind of one lemon
1 tsp ground cinnamon
1 tsp mixed spice (Allspice)
Clean and chop the rhubarb into pieces
Put in a 2-pint pie dish
Add the other ingredients
Stir well.
Sift the flour into a large mixing bowl
Rub in the butter .The mixture should look like breadcrumbs add the sugar, grated lemon rind, cinnamon and mixed spice mix well.
Sprinkle the topping over the rhubarb.
Bake in a pre-heated oven at 400°F for thirty minutes it should be golden brown.
Serve hot with ice cream or custard.
CLAPSHOT
1 lb boiled potatoes
1 lb boiled turnip
2 tbsp chopped chives
Salt and pepper
2 oz butter
Mash the Potatoes and Turnip together while still hot.
Mix in the butter, chives,
Season well with salt and pepper.
CHICKEN BALMORAL
2 large skinless chicken breasts                                                             
3oz haggis
6 rashers back bacon, smoked or unsmoked
3tbls melted butter
salt & pepper
Place the chicken breasts on a board and with a sharp knife, cut along the length to make a pocket in each breast. stuff the haggis into each breast Wrap the chicken breasts in bacon, covering as much of the chicken as possible.
Brush with melted butter and season.
Wrap in tin foil and bake in the oven at 200C for 30 mins. After 25 mins open the tin foil to let the bacon crisp up
WHISKY SAUCE
1/2 pint of chicken stock
3 tablespoons of whisky
1 tablespoon dijon mustard
1/4 pint double cream
1 knob of butter
Mix the whisky  with the stock, and bring to the boil.
Reduce by half.
Add the cream and the mustard,then the butter
SCOTTISH OATCAKES
6 oz  lard
4ozplain flour                                                                                          
1 cup cold water
1 lb medium oatmeal
1 teaspoon salt
Put oatmeal, flour and salt in a large  bowl and mix. Make a well in the centre and pour in the hot melted lard and cold water. Mix well and then roll cut out using  a 3 inch cutter .
Bake in moderate oven Gas 5, 19O degrees C (375 F) for about 20 minutes.
TABLET
1 cup of milk
Large tin of condensed milk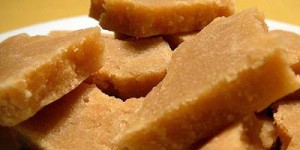 900g of sugar
100g of butter
Melt the butter and sugar. Add the condensed milk and the
cup of milk.
Stir and turn up the heat and keep stirring until it boils
Turn the heat down low and stir for 35 minutes
Remove from the heat and beat for 2 minwith a wooden spoon.
Put a wee bit on a plate and if it sets then it's ready to be put onto the shallow trays.Score the tablet surface marking into squares and allow to set and get cold.
STOVIES
4 oz cold, diced lamb 0r beef
1lb potatoes, peeled and sliced
1 large onion, very thinly sliced.
1 level tablespoon dripping
Salt and pepper nutmeg
Chopped parsley Stock or water
Melt the dripping in a large pan add a layer of sliced potatoes, then a layer of onion and next a layer of meat. Add enough stock or water to cover
Then repeat the layers once again and season the dish thoroughly – in addition to salt and plenty pepper, add some nutmeg
Cover and cook over a low to moderate heat for about 30 minutes or until the potatoes are tender and the liquid is absorbed. Serve with a sprinkling of chopped parsley
SCOTTISH SHORTBREAD
175g of self raising flour (replacing 2 teaspoons with 2 teaspoons of ground rice)
50g of sugar
100g of butter                                                                                              
Ground rice for sprinkling
Cream the butter and sugar until almost white and gradually add the flour.
Squeeze the whole mixture into a large ball.
Remove from the bowl and dust in ground rice.
Press into an 8inch square tin and smooth and make pinpricks all over.
Bake in the oven at 160c, 325f or gas mark 3 for 25 minutes.
Remove, dust with caster sugar and cut into 12 fingers Cool for 15 minutes in the tin.
Place on a rack until cold and store in an airtight tin.
PUFF CANDY
325 gm Caster Sugar
50 gm Runny Honey                                                                                
125 gm Liquid Glucose
4 tblsp Water
15 gm Bicarb of soda
Line a roasting tin or similar with silicon paper (very good non-stick).Place the first 4 ingredients in a pot at least 4 times their volume.Warm gently until the sugar is melted then increase the heat to a rapid boil.Cook until the mixture turns golden brown.With a whisk in hand (you may want to wrap a towel round your hand to avoid splatters) remove from heat ,toss in the bicarb and whisk like fury for about 45 secs to a minute.Pour into the lined tin to set and then store in an airtight container after breaking it up.
SCOTCH PIES
PASTRY:
Lard 4oz
Hot water 1/2pint                                                                                                    
Plain flour 1lb
Salt
Milk – a little, to glaze
FILLING
Lean minced lamb 1lb
Onion – 1 small, finely chopped
Ground mace or nutmeg – pinch
Worcestershire sauce – dash
Salt and pepper
gravy – 4 tbsp
Prepare the mince and onion, then add the spice and Worcestershire sauce, season it well and reserve.
Put the fat and water into a saucepan and bring to the boil. Sift the flour and salt into a basin, make a well in the centre and pour the hot liquid into this and mix quickly with a spatula until cool enough to handle, then form into a ball. This must be done quickly before the fat hardens.
Put on to a floured surface and pat flat. Divide it in four and keep the rest warm, then roll out three-quarters into a circle, putting a jar about three inches wide Mould the pastry around the jar and when it stands remove the jar and do the three others the same way. Roll out the remaining pastry and cut out the lids.
Fill up the pastry cases with the meat mixture and add a little gravy or stock to each pie. Dampen the edges and put the lids on, making a small slit in the centre of each and brushing the top and sides with a little milk. Bake on a baking sheet at 130 °C / 250 °F / Gas ½ for about 45 minutes.
MICROWAVE CLOOTIE DUMPLING
½ pint cold water
4 oz sugar
1 heaped tablespoon Cinnamon
1 heaped tablespoon Mixed Spice
8 oz Margarine
8 oz Sultanas
8 oz Raisins
1 tablespoon Treacle
Put all the ingredients into a saucepan and bring to the boil, simmer for five minutes
stage two
8 oz plain flour
1 teaspoon Bicarbonate of Soda
2 beaten eggs
Add the hot mixture to the flour and bicarbonate of soda, when well mixed add the two beaten eggs and mix well
Pour the mixture into a cling film lined bowl and cook in the microwave for:-
650 Watt – 9 minutes
500 Watt – 12 minutes
Leave in the bowl to cool and firm up then turn out onto a wire rack or plate.
LORNE SAUSAGE
2 lb minced Beef
2 lb minced Pork                                                                                                              
3 Cups Fine Bread Crumbs
2 teaspoon Pepper
2 teaspoon Nutmeg
3 teaspoon Coriander
3 teaspoon Salt
1 Cup of water.
Mix really well by hand then place in an oblong pan about 10″ x 4″ x 3″. You might need two pans. Place in the freezer for a little while till it's just starting to set. Remove it and cut them to the thickness you like and put them into freezer bags and put them back in the freezer. When required, defrost and fry in a little fat or oil until brown and cooked through.
CRANACHAN
3 oz (half cup) pinhead or coarse oatmeal                                                                  
Half pint double cream
1 tablespoon Drambuie (optional)
Toast the oatmeal in a frying pan on a high heat until lightly brown. Whisk the cream into a soft consistency and mix in the oatmeal and Drambuie (alternatively, use a few drops vanilla essence or other flavouring of your choice). Serve in tall glasses. A popular variation is to mix in 6oz (one and a half cups) of fresh raspberries. Or use vanilla ice cream instead of cream.
SKIRLIE
50g of butter or dripping
1 onion – finely chopped
175g oatmeal
Salt and pepper
Melt the butter in a pan and add the onion, frying gently to soften.
Stir in the oatmeal, season and cook gently for 10 minutes.
COCK-A-LEEKIE
1 boiling chickenl, about 4lb, including legs and wings
1lb leeks (about 12) cleaned and cut into 1-inch pieces
4 pints stock or water                                                                                                                              
1oz long grained rice
4oz cooked, stoned prunes
One teaspoon brown sugar
Salt and pepper
Garni of bay leaf, parsley, thyme
Some recipes also have 3 chopped rashers of streaky bacon
Put the chicken and bacon in a large saucepan and cover with water. Bring to the boil and remove any scum. Add three-quarters of the leeks, (green as well as white sections), herbs (tied together in a bundle), salt and pepper and return to the boil. Simmer gently for 2-3 hours, adding more water if necessary.
remove the chicken.  and chop into pieces and add to the soupAdd the rice and drained prunes and the remaining leeks and simmer for another 30 minutes. Check for flavour and serve with a little chopped parsley
CULLEN SKINK
large smoked haddock (weighing around 2 lb)
1 medium onion, finely chopped.
1½ pints (900ml) milk
2 tablespoons butter
8 oz mashed potato
Salt and pepper
1 bay leaf
Cover the smoked haddock with water, in a shallow pan, skin side down. Bring to the boil and simmer for 4/5 minutes, turning once. Take the haddock from the pan and remove the skin and bones. Break up the fish into flakes, return to the stock and add the chopped onion, bay leaf, salt and pepper. Simmer for another 15 minutes. Strain, remove the bay leaf but retain the stock and fish. Add the milk to the fish stock and bring back to the boil. Add enough mashed potato to create the consistency you prefer (don't be afraid to make it rich and thick!). Add the fish and reheat. Check for seasoning. Just before serving, add the butter in small pieces so that it .
Serve with chopped parsley on top,
GRIDDLE SCONES
8 oz Flour
1/2 teaspoon bicarbonate of soda
1/2 teaspoon of cream of tartar                                                                                      
1/2 teaspoon baking powder
1 oz butter
1 teaspoon golden syrup
8fl oz Buttermilk
full cream milk
Sift the flour into a bowl. Add all the other dry ingredients and mix well. Rub in the butter, then add the syrup and milk. Mix thiswith a knife until the consistency is soft and pliable
Turn onto a floured surface and roll quickly and lightly, handling as little as possible,to approx 3/4 inch thick. Cut into rounds
Grease and heat the gridle(or heavy frying pan). Lift the scones onto the girdle and turn once until brown on both sides. Serve freshly baked (normally with butter)
TATTIE SCONES
ingredients                                                                                                                                            
2.5oz (65g) flour
3 tablespoons melted butter
Half pound (225g) boiled and mashed potatoes
Half teaspoon salt
Mash the potatoes while they are still warm and add the butter and salt. Add in enough flour to make it a pliable dough. It may seem strange to say, but the quality and type of ingredient (potatoes) will affect this.
Turn the mixture out onto a floured surface and roll until it is about quarter of an inch thick. Cut into circles approx. six inches in diameter and then into quarters. Prick all over with a fork and cook in a heavy pan which has been lightly greased. Take care not to have the oil too hotor the scones will burn on the outside but remain raw on the inside. Cook each side for about three minutes or
until golden brown.
POTTED HOUGH
2LB beef hough ( piece of shin bone, ) cracked
salt, pepper
pinch of cayenne
pinch of ground all-spice
1 bay leaf
Put the meat with the bone, cayenne all spice, bay leafinto a  large saucepan,   then just cover it with cold water.
Bring to the boil, skim and turn heat down to simmer.
Let it cook for at least 6 hours.
Strain off the liquid, allow it to go cold then skim off any fat.
Mince the meat finely and return it to the stock, taste for seasoning, then cook again for around 20 minutes.
Wet some small moulds and divide the mixture between them.
Chill until they are set.