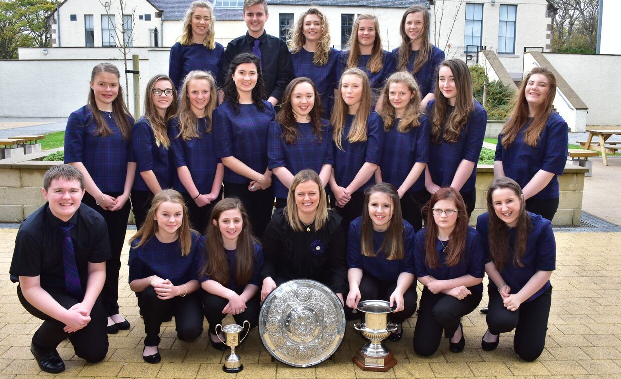 This year's Royal National Mòd (Am Mòd Nàiseanta Rìoghail) in the Western Isles continues today (Monday 17 October) as the Children's competitions heat up. Day four at Scotland's biggest Gaelic Cultural Festival sees young Gaels aged 5-19 take part in 33 poetry, drama, song and music contests.
As part of the children's competitions today, the Murdo Macfarlane Trophy for under-13 folk music will be awarded. The award is named after a Lewis born Bard whose Gaelic poetry, songs and pipe tunes, inspired Gaelic artists and musicians for years to come. Chair of the Highland Council's Gaelic Implementation Group, Councillor Hamish Fraser, will present a £300 prize to the winning group, donated by the Highland Council. An exhibition of artwork inspired by Murdo Macfarlane will run all this week at An Lanntair.
In the Fringe, engaging and interactive puppet-led yoga will take place at various venues around Stornoway. The Nicolson Institute will host Cuilean Craicte, a workshop for parents exploring the benefits that reading Gaelic has on children's linguistic and educational development. Monday and Tuesday evening will conclude with a children's ceilidh at the Caladh hotel.
The children's competitions continue on Tuesday, with the coveted Traditional Silver Medals taking place at the Nicolson Institute. The adult competitions begin on Wednesday with this year's Gold Medal Final taking place in the evening. The Traditional Final competition runs on Thursday, and the highly anticipated Lovat and Tullibardine shield will be broadcast live on BBC ALBA on Friday 21st October. The Royal National Mòd will conclude on Saturday October 22nd when a procession of choirs and pipers make their way through Stornoway to the Nicolson Institute where a massed choir finale will close this year's festival.
John Morrison, Chief Executive of An Comunn Gàidhealach, said:
"The children's competitions are always a fantastic way to start the Mòd. We saw some wonderful musical performances on Saturday and I'm sure there are even more in store for the rest of the week. The children's ceilidhs in the evening are a great way to unwind after a busy day of competitions. The Western Isles have been excellent hosts so far and we're looking forward to the rest of this year's Mòd over the coming days."
Comhairle nan Eilean Siar Convener and Chair of the Mod nan Eilean Siar local organising committee, Norman A MacDonald, said:
"We have already had some fantastic performances and events over the first three days with the Torchlight Parade, the Ar Cànan 's Ar Ceòl music showcase and the Celtic Praise and Gaelic service on Sunday. For me, the children's competitions on Monday and Tuesday are always one of the highlights of the week and we also look forward to the adult competitions later in the week with the 'seann nòs' and choir competitions."
Councillor Hamish Fraser, Chair of the Highland Council's Gaelic Implementation Group, said:
"I had the honour of presenting the prize in this excellent competition. It's been a delight to be present here today to see the young people perform to such a high standard. The standard keeps improving each year and all the young people taking part should feel very proud of their performances. I've every confidence that they will all progress and become successful ambassadors for Gaelic in the future."
// <![CDATA[ google_ad_client = "pub-8789619055654824"; /* 300x250, created 11/13/09 */ google_ad_slot = "3809754592"; google_ad_width = 300; google_ad_height = 250; // ]]&gt;<script src="http://pagead2.googlesyndication.com/pagead/show_ads.js" type="text/javascript">// <![CDATA[ // ]]&gt;</script>
Hebrides Today brings you the latest news from the Western Isles