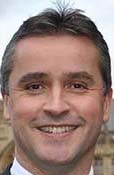 Angus MacNeil MP has been appointed as Chair of the pivotal House of Commons International Trade Committee.
Mr MacNeil, who is MP for Na h-Eileanan an Iar, was elected unopposed as the sole SNP nomination for the Chair of this new Select committee.
The International Trade Committee will examine the expenditure, administration and policy of the Department for International Trade and its associated public bodies at a critical time for the UK's economy.
Mr MacNeil was previously the Chair of the Energy and Climate Change Committee which was dissolved this month following the Prime Minister's decision to abolish the Department of Energy and Climate Change.
Of his new appointment, Mr MacNeil said: "The International Trade Committee will be a central committee for economic direction of the UK at this stage as we are very uncertain as to what the terms of trade will be for the UK following Brexit.
"The Prime Minister has not given clear answers on the single market and as a result of that we have to understand what the implications will be for the UK.
"One of the first inquiries I imagine the committee would want to look at would be what the World Trade Organisation rules of engagement will mean for trade across the UK.
"Obviously with uncertainty over the single market, or whether we can negotiate trade agreements between the World Trade Organisation rules and the single market, remains an open question."
Mr MacNeil will chair his first committee in the coming weeks when the parties nominate their membership.
To follow the work of the committee follow them on Twitter @CommonsIntTrade or visit https://www.parliament.uk/business/committees/committees-a-z/commons-select/international-trade-committee/
// <![CDATA[ google_ad_client = "pub-8789619055654824"; /* 300x250, created 11/13/09 */ google_ad_slot = "3809754592"; google_ad_width = 300; google_ad_height = 250; // ]]&gt;<script src="http://pagead2.googlesyndication.com/pagead/show_ads.js" type="text/javascript">// <![CDATA[ // ]]&gt;</script>
Hebrides Today brings you the latest news from the Western Isles