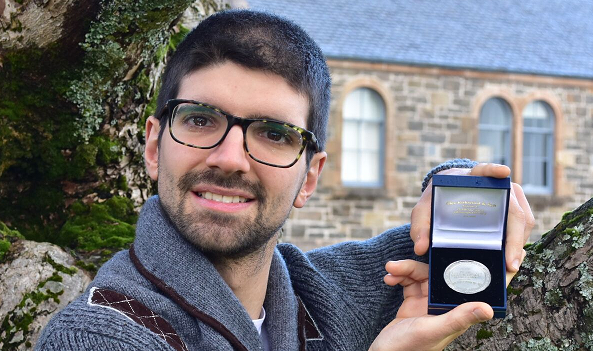 His Royal Highness, The Lord of The Isles, will attend this year's Royal National Mod (Am Mòd Nàiseanta Rìoghail) today (Tuesday 18 October) to enjoy performances from some of this year's competitors. His Royal Highness will then meet with several competitors, volunteers and staff of An Comunn Gàidhealach, organisers of the Royal National Mòd at the Nicolson Institute in Stornoway. His Royal Highness will then present Carmine Colajezzi with the 2016 Gaelic Learner of the year award. Sponsored by the Royal Highland and Agricultural Society for Scotland, the award acknowledges a Gaelic learner who's made significant steps to becoming fluent.
'The Children's Mòd' will continue today with hundreds of under 19 Gaelic speakers taking part in over 50 competitions in the Western Isles. Young Gaelic speakers of all levels will compete for awards in storytelling, poetry and singing, including the coveted An Comunn and Traditional Silver Medal competitions for boys and girls aged 13-15.
Gaelic Learner of the Year, 30 year old Carmine Calajezzi, was born and raised in Abruzzo, Italy, before moving to Scotland 5 years ago. He began to study Gaelic after a cycling tour of the Western Isles, before moving to Skye in 2015, where he enrolled at Gaelic College Sabhal Mòr Ostaig to further his language skills. After taking every opportunity to speak Gaelic with friends and colleagues, Carmine has since taken part in several Gaelic radio programmes for beginners, 'Beag air Bheag' as well as being interviewed on BBC's Radio nan Gàidheal.
Following on from the theme of an international interest in Gaelic, this year's Royal National Mòd sees children competing from Spanish and Zimbabwean backgrounds, as well as one competitor travelling from Abu Dhabi to compete.
Bòrd na Gàidhlig has also announced today how the e-Sgoil initiative has already had a positive effect on Gaelic education. The eproject allows schools to link up with Gaelic teachers via video conferencing, giving more pupils across Scotland the opportunity to learn different subjects through the language. Already in place, Hazlehead Academy in Aberdeen receive three lessons a week through the e-Sgoil system from a teacher based in Shawbost School on the Isle of Lewis. (see attached press release for more details)
In the Fringe, Puppet-led Yoga continues across Stornoway today and a children's ceilidh will give young Gaels the chance to dance and relax after a busy day of competitions. At the Callanish Visitor Centre, emerging traditional musicians will entertain gatherers in 'Music at the Stones. An evening of poetry, song and stories will recall the pain of the Great War in 'Memories' at the Clan MacQuarrie Centre in Borve. 'Solas', a humorous drama based on Highland folk tales and writings of Neil Munro will take place at An Lanntair.
John Macleod, President of An Comunn Gàidhealach, said:
"It's an honour to have had His Royal Highness, The Lord of the Isles, attend this year's Royal National Mòd. Today has been a significant day in the history of the Mòd, and I'm sure for the people of the Western Isles too. Carmine is a worthy winner of the Gaelic Learner of the Year award, his hard work and commitment has been remarkable. The level of competition already this year has been outstanding and we're delighted to have witnessed such high levels of Gaelic being spoken in the younger generations."
Keith Brooke, Chairman of RHASS said:
"RHASS is proud to lend its support to the Gaelic Learner of the Year. We would like to commend Carmine for his efforts in keeping our vibrant Gaelic language alive for future generations to enjoy."
// <![CDATA[ google_ad_client = "pub-8789619055654824"; /* 300x250, created 11/13/09 */ google_ad_slot = "3809754592"; google_ad_width = 300; google_ad_height = 250; // ]]&gt;<script src="http://pagead2.googlesyndication.com/pagead/show_ads.js" type="text/javascript">// <![CDATA[ // ]]&gt;</script>
Hebrides Today brings you the latest news from the Western Isles