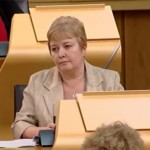 Highlands and Islands Labour MSP, Rhoda Grant, has contacted the Scottish Government, CalMac and HiTRANS about an issue over the timings of the summer ferry service from Lochboisdale to Mallaig.  From 25 March to 23 October 2016 the ferry is scheduled to leave Lochboisdale at 7.00am, arriving in Mallaig at 10.30am, which is 20 minutes after the train leaves for Glasgow, with the evening sailing leaving Mallaig 20 minutes before the Glasgow train arrives at Mallaig.
Mrs Grant contacted the Transport Minister and CalMac and was advised that Shiel Buses have approached Highland Council with a view to bringing the Mallaig to Fort William bus service forward by an hour to 11.00am however this would still mean that people have a lengthy wait in Fort William for onward connections to Glasgow.
Mrs Grant has now raised the matter with HiTRANS who are due to meet today (Tuesday) and tomorrow and has been advised that this matter is on the agenda.
Mrs Grant commented "Folks in the Uists campaigned long and hard to get an all year round service from Lochboisdale to Mallaig and they want to use it.  I am glad therefore that HiTRANS are going to look into this.  I appreciate there are three services operating out of Mallaig harbour but I would hope that, with a little bit of alteration to the timetable, something could be done to ensure a more integrated service can be offered."
// <![CDATA[ google_ad_client = "pub-8789619055654824"; /* 300x250, created 11/13/09 */ google_ad_slot = "3809754592"; google_ad_width = 300; google_ad_height = 250; // ]]&gt;<script src="http://pagead2.googlesyndication.com/pagead/show_ads.js" type="text/javascript">// <![CDATA[ // ]]&gt;</script>
Hebrides Today brings you the latest news from the Western Isles