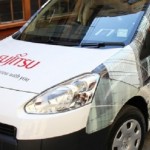 A FUTURISTIC vehicle that could change the way businesses are run is being showcased in the Highlands this week.
The hyper-connected van – devised by IT giant, Fujitsu – is fitted with state-of-the-art technology that turns it into a mobile office and digital hub.
It can make operations more efficient, safer, environmentally-friendly and ensures the right member of staff is in the right place at the right time and with the right tools.
There's been no lack of imagination of what future vehicles could look like in film and TV, with Back to the Future, Blade Runner, I Robot and the all new Star Wars: The Force Awakens – all assembling tech-laden transport.
But the Fujitsu van is among the first real-life builds to take them on the road to reality by having a commercial model available now.
The high-tech vehicle has been visiting a number of locations in the Highlands, including Oban, Portree and Inverness where demonstrations of its capabilities and benefits have been explained to businesses. 
The vehicle is equipped with high-end routers, utilising high-gain, sensitive antennae. This allows it to stream data through 3G and 4G from multiple connections as though one, giving it the ability to channel a much stronger data signal.
This allows the van to act as a mobile hub for work sites, helping to ensure operations are co-ordinated and reducing set-up time. By using a connected van as a digital hub, a site can be online within hours, rather than weeks.
"Businesses and local authorities often work in areas where there is no network access but need access in order to do their jobs properly. We can now offer it using this vehicle," said Stuart Barnett, Fujitsu's major incident manager.
"If you have a van in location A and a job in location B, all a dispatcher needs to do is check the information stored in the cloud on the van's tagged contents, for example its parts and the qualifications of the driver, to assess if they are the right fit for the job.
"They may be the nearest, but if they don't have the correct qualifications or parts, what's the point?
"This is a cost-effective solution. It cuts down on second visits, it saves so much time and it also ensures people are working and being trained in the right way."
GPS and dashboard cam devices record and stream to a cloud service, allowing vehicle to be tracked and monitored remotely. The camera facility can record whilst in motion so in the event of an accident it can show footage of the situation, potentially affecting insurance costs.
"I cannot overstate the potential of this vehicle. The implications are huge for areas such as disaster recovery, remote working, mobile offices and any number of other applications," added Stuart.
"It is a proven concept and we think it can provide a cost-effective solution to many problems."
The van comes in different sizes with various suites of technology and offers a variety of benefits.
For businesses working in the field, a GPS system maps the day's working schedule so the optimum and most cost-efficient route is chosen. The workload is decided according to the individual driver's skills set and prioritised so more customers can be seen in one day.
The van is fitted with Radio Frequency Identification (RFID) technology that allows any tagged item in a van to be recorded and managed centrally. It means when a specific job is allocated to the van a check is made that the right items are on board. If they are not, the system can locate the nearest van with the correct items and reserve them for the task.
This cuts down the number of failed visits, saving fuel and costs and improving customer service.
In addition, it is fitted with various sensors that can test the atmosphere for pollutants and influences such as gasses, liquids, heat, sound and even radiation.
Stuart added: "The sensors allow the van to check the air quality and pollen count around offices and it can manage noise pollution if, say, there have been complaints about people making excessive noise.
The hyper-connected van was displayed and demonstrated on Thursday to local businesses and today (Friday) it is parked at Castle Stuart Golf Links during an event  organised by Fujitsu for local businesses.
// <![CDATA[ google_ad_client = "pub-8789619055654824"; /* 300x250, created 11/13/09 */ google_ad_slot = "3809754592"; google_ad_width = 300; google_ad_height = 250; // ]]&gt;<script src="http://pagead2.googlesyndication.com/pagead/show_ads.js" type="text/javascript">// <![CDATA[ // ]]&gt;</script>
Hebrides Today brings you the latest news from the Western Isles