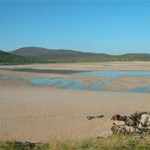 Entries are now open for the annual Scottish Landscape Photographer of the Year competition.
The photography competition now in its second year celebrates the beauty of Scotland's breathtaking scenery is the brainchild of Fife-based landscape photographer Stuart low. Building on the success of the inaugural competition, it now boasts an increased prize fund of £14,000 and has attracted new sponsors such as by Academy Class, Caledonian MacBrayne, Calumet Photographic, Fotospeed, Scottish Natural Heritage and Formatt-Hitech. The competition has been timed to coincide with the spectacular colours of the Scottish autumn.
Competition founder, Stuart Low said: "I'm absolutely delighted that the competition is continuing again this year. The competition is all about promoting photography and tourism, and the inaugural competition has proved to have been a great success. The book we produced is a best seller in the shops and the exhibition of winning images was so popular that they had extended runs at various galleries across Scotland. The exhibitions have been a notable success of the competition.
"In this day and age we're used to seeing images on a screen, but seeing the winning images printed and hanging on a wall has seen several of the photographers earn sales and many visitors have been inspired by their work to take up photography too. The exhibitions have also been good for tourism because they've raised the profiles of the places in the images and encouraged tourists to visit these places during their stay. I'm really excited about seeing this year's entries and hoping to build on that success once again."
The competition has been endorsed by VisitScotland, Scotland's national tourism organisation.
Malcolm Roughead, Chief Executive of VisitScotland said: "We welcome the return of the Scottish Landscape Photographer of the Year competition. With over 11,000km of coastline, hundreds of islands, majestic mountains and beautiful canals, rivers and lochs, Scotland's landscape and distinct geography makes for the perfect photographer's playground.
"From the Scottish Borders to the Shetland Islands, we have a worldwide reputation for our natural beauty with has inspired both photographers and filmmakers alike to come to our shores and take in our spectacular landscapes. They say a picture paints a thousand words and we look forward to seeing 'essays' of wonder from entrants once again."
The competition is open to amateur, professional and young photographers from the UK and overseas. Submissions close on 14 November.
For more information about the competition, go to http://www.slpoty.co.uk or email Stuart Low at [email protected]
// <![CDATA[ google_ad_client = "pub-8789619055654824"; /* 300x250, created 11/13/09 */ google_ad_slot = "3809754592"; google_ad_width = 300; google_ad_height = 250; // ]]&gt;<script src="http://pagead2.googlesyndication.com/pagead/show_ads.js" type="text/javascript">// <![CDATA[ // ]]&gt;</script>
Hebrides Today brings you the latest news from the Western Isles