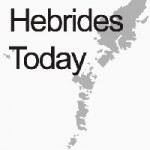 Na h-Eileanan an Iar SNP MP, Angus MacNeil is writing to the Ministry of Defence after a military target drone was found on a beach in North Uist.
Commenting Angus MacNeil said:
"While we welcome the military exercise, it is concerning that military litter is left around afterwards.
"I would imagine that the MOD would have more control and knowledge over their equipment than this, and I wouldn't like to think of a lobster boat colliding with a drone given its weight and size.
"I want the MOD to be open and transparent and to tell us if there is any more military equipment in our waters that we should be looking out for.
"Finally, should anyone come across suspected military equipment, do not touch it and call 999."
// <![CDATA[ google_ad_client = "pub-8789619055654824"; /* 300x250, created 11/13/09 */ google_ad_slot = "3809754592"; google_ad_width = 300; google_ad_height = 250; // ]]&gt;<script src="http://pagead2.googlesyndication.com/pagead/show_ads.js" type="text/javascript">// <![CDATA[ // ]]&gt;</script>
Hebrides Today brings you the latest news from the Western Isles