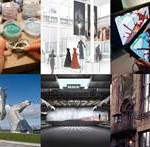 As Scotland looks to its Year of Innovation, Architecture and Design in 2016, VisitScotland, Scotland's national tourism organisation, is putting young design talent at the heart of plans and is inviting young creatives in the Outer Hebrides to design the official logo used to promote the year.
The designer whose logo is selected will win up to £3,000 towards materials, tools or activity to support their own professional development in the design sector.
From textiles to technology, architecture to fashion and design, the year-long programme of events, festivals, business conferences and exhibitions aimed at attracting participation and engagement from visitors and locals, will shine the spotlight on Scotland's greatest assets and icons, as well as some of our unique hidden gems.
The winning design will become the official logo for the forthcoming themed year and will be used across multiple channels by VisitScotland and partner organisations across national and international promotional activity throughout 2015 and 2016.
The competition is a great opportunity for a young creative to add a design to their portfolio that has the potential to be seen by millions of people and become highly recognisable during the year. The winner will also be able to see their logo design carried across a programme of major and special events due to take place throughout 2016.
Minister for Tourism Fergus Ewing said:
"Scotland's incredible influence on the world has encouraged invention, inspired creativity and fired the imagination of generations. It is fitting that for the 2016 Year of Innovation, Architecture and Design, VisitScotland are creating the opportunity for young talent in Scotland to design the logo for a year that will be used to encapsulate all that is great about Scotland."
Mike Cantlay, Chairman of VisitScotland, said:
"This is a fantastic opportunity for a young creative mind to show their vision and skills to the world. Scotland has a rich history in innovation, architecture and design and we will be looking for an exciting logo which reflects this. The themed years have been a huge success and the Year of Innovation, Architecture and Design will capture the imagination of visitors from all over the world."
The judging panel, consisting of experts from across the themed year sectors, will look for a contemporary, eye-catching, practical design that can be used across a variety of different channels and alongside partner logos.
Entries to the competition must be from individuals aged between 16 and 25 years of age, who are resident in Scotland.
Visit http://www.eventscotland.org/funding/year-of-innovation-architecture-and-design-2016/logo-competition/ to download an Entry Form, Design Brief and full Terms and Conditions. Designs should be submitted via email to [email protected].
The closing date for entries is Sunday 12 July 2015 (at midnight). The winning design will be announced thereafter.
// <![CDATA[ google_ad_client = "pub-8789619055654824"; /* 300x250, created 11/13/09 */ google_ad_slot = "3809754592"; google_ad_width = 300; google_ad_height = 250; // ]]&gt;<script src="http://pagead2.googlesyndication.com/pagead/show_ads.js" type="text/javascript">// <![CDATA[ // ]]&gt;</script>
Hebrides Today brings you the latest news from the Western Isles