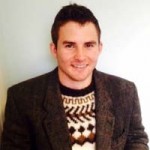 A new post of Gaelic Development Officer was announced earlier this year as part of the Ceòlas Development Plan. The post, which runs for a year as part of the ScotGrad graduate programme, has been filled by Liam Alastair Crouse.
Liam is from Rhode Island in the United States. He graduated from the School of Scottish Studies (University of Edinburgh) in 2012 with a degree in Celtic & Archaeology. It was as part of the course that he began to learn the Gaelic language. During his time in Edinburgh, Liam was closely involved with the Edinburgh University Highland Society, serving as Bàrd and President.
In 2013, Liam was named the first recipient of The Gaelic Book Council's inaugural Gaelic scholarship to study Publishing Studies at the University of Stirling.
The work of the Gaelic Development Officer will be to organize and run Gaelic language learning activities in Uist. A preliminary survey will be carried out to identify the needs and interest in classes and events that will cater to both the community and students of Lews Castle College.
Liam commented: 'I am delighted to be starting work with Ceòlas, a leading Gaelic arts and heritage organisation. In the coming weeks, I will be starting work to assess the degree of interest and support available in the community, to see what sort of structure will work best. Uist has an incredibly unique wealth of Gaelic linguistic and cultural assets, and I would very much like to see that taking the fore.
Liam is located between the LLC campus and Gleus House, Dalabrog, and can be contacted on [email protected]. If you have any comments, questions, or recommendations on his future work, please feel free to get in touch.
// <![CDATA[ google_ad_client = "pub-8789619055654824"; /* 300x250, created 11/13/09 */ google_ad_slot = "3809754592"; google_ad_width = 300; google_ad_height = 250; // ]]&gt;<script src="http://pagead2.googlesyndication.com/pagead/show_ads.js" type="text/javascript">// <![CDATA[ // ]]&gt;</script>
Hebrides Today brings you the latest news from the Western Isles