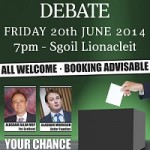 People from Uist will have the chance to raise questions ahead of the independence referendum at a special debate hosted by local newspaper, Am Pàipear.
Scheduled for 7pm on Friday 20th June in Sgoil Lionacleit, the debate is an opportunity for members of the community in Uist to question two of the leading figures in the Yes and Better Together campaigns.
Alasdair Allan MSP will speak for Yes Scotland and outline the case for independence.
Better Together will be represent by Alasdair Morrison, chair of the campaign group for the union in the Western Isles.
Entrance to the debate is free. However, as spaces are filling up fast, booking is advisable.
Places can be booked by telephoning the Am Pàipear office on 01870 60 32 99.
Alternatively, bookings can be taken by e-mail. Send your name, the number of places you wish to reserve and a contact telephone number to either 
[email protected]
 or 
[email protected]
.
Further announcements and updates on progress leading up to the debate will be issued to the community through the 'Am Pàipear Independence Debate' Facebook page.
Twitter users can also look out for updates by following @ampaipear and using the hashtag #APdebate.
On the evening, the format of a traditional two-way political debate will be followed.
Each speaker will make an opening address lasting no longer than five minutes.
Then, questions will be posed on a range of issues.
Each speaker will have one minute to answer each question, before five minutes of debate and discussion.
Questions will be welcomed on a range of issues, however, it is hoped that many will have a relevance local to the islands.
Am Pàipear Editor Iain Stephen Morrison said: "Organising an event like the Am Pàipear Independence Debate is quite an undertaking. However, given the unprecedented significance of the referendum on 18th September, I feel this debate is not only helpful, but essential.
"I am delighted both Alasdair Allan MSP and Alasdair Morrison have agreed to make their way to Uist to participate in this exchange. As the two leading figures in the campaigns based in the Outer Hebrides, it is only right people have the opportunity to question, and I hope challenge, our speakers on why we should vote yes or no.
"The response to date has been encouraging. I am confident this event will see some interesting questions being raised, hopefully resulting in constructive debate. Whoever you are, whatever your question, please do come along and participate."
// <![CDATA[ google_ad_client = "pub-8789619055654824"; /* 300x250, created 11/13/09 */ google_ad_slot = "3809754592"; google_ad_width = 300; google_ad_height = 250; // ]]&gt;<script type="text/javascript" src="http://pagead2.googlesyndication.com/pagead/show_ads.js">// <![CDATA[ // ]]&gt;</script>
Hebrides Today brings you the latest news from the Western Isles