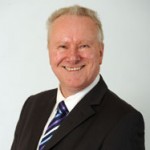 The new Cabinet Secretary for Health and Wellbeing Alex Neil will conduct his first Scottish Annual Review in the Western Isles next month, when the local Health Board's performance over 2011/12 will be discussed.
Alex Neil became Cabinet Secretary for Health and Wellbeing earlier this month. He will conduct the Annual Review in the Western Isles on Monday October 8 in An Lanntair, Stornoway, at 2.30pm. Members of the public are encouraged to attend the event, which will last approximately two and a half hours. There will be an opportunity on the day for those who attend to ask questions.
This year's annual review will strongly focus on quality of care for all patients, and measures the local health board has taken to ensure that:
everyone has the best start in life and is able to live longer, healthier lives;
healthcare is safe for every person, every time;
everyone has a positive experience of healthcare;
staff feel supported and engaged; and
people are able to live well at home of in the community.
The progress made by NHS Western Isles with regard to national targets (such as waiting time targets and infection control targets) will be included in discussions on the day.
NHS Western Isles Chief Executive Gordon Jamieson said: "I look forward to this year's Annual Review when we have the opportunity to discuss our performance over 2011/12 with the new Cabinet Secretary for Health and Wellbeing, Alex Neil, the Director-General Health and Social Care and Chief Executive of NHSScotland, Derek Feeley, and other government officials. We would encourage members of the public to come along to the event to hear about local health service achievements, progress and challenges."
He added: "The Annual Review also represents a valuable opportunity for us to showcase the steady and significant progress that has been made over the year, thanks to the efforts of staff across our healthcare system. Key areas of progress that the Board hopes to highlight during this year's event include innovative approaches to cardiovascular disease and diabetes screening, infection prevention and control measures, the use of technology to improve the delivery of care, and steps taken to reshape care for older people."
This year's Annual Review will be filmed and will be available to view after the Annual Review at www.wihb.scot.nhs.uk

// <![CDATA[ google_ad_client = "pub-8789619055654824"; /* 300x250, created 11/13/09 */ google_ad_slot = "3809754592"; google_ad_width = 300; google_ad_height = 250; // ]]&gt;<script type="text/javascript" src="http://pagead2.googlesyndication.com/pagead/show_ads.js">// <![CDATA[ // ]]&gt;</script>
Hebrides Today brings you the latest news from the Western Isles