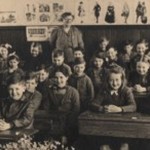 This year marks the 140th anniversary of the passing of the Education (Scotland) Act 1872 which introduced compulsory education for all across Scotland.  The new Act ignored the native Gaelic language and culture of the Highlands and Islands but what was the real impact of this on the language and communities of the islands? What has done since to try and remedy any damage done and how successful has this been?
These are just some of the questions being discussed at a one day conference "The Education (Scotland) Act 1872 – A watershed for the Gaelic language" hosted by Tasglann nan Eilean Siar (Hebridean Archives) in Balivanich Primary School on 25 August 2012.
Speakers addressing the conference include UHI's Matthew Maciver and Elizabeth Ritchie along with William MacDonald of Comhairle nan Eilean Siar's Education department.  The important work undertaken by community heritage groups to document and learn about life in post 1872 schools will feature in what will be an interesting day.
The conference will be presented in both Gaelic and English with simultaneous translation.
Attendance costs £10, including a light lunch.  Booking forms are available by emailing [email protected], by visiting www.tasglann.org.uk or phoning 01851 822750
The event is supported by Bòrd na Gàidhlig and Tasglann nan Eilean Siar
// <![CDATA[ google_ad_client = "pub-8789619055654824"; /* 300x250, created 11/13/09 */ google_ad_slot = "3809754592"; google_ad_width = 300; google_ad_height = 250; // ]]&gt;<script type="text/javascript" src="http://pagead2.googlesyndication.com/pagead/show_ads.js">// <![CDATA[ // ]]&gt;</script>
Hebrides Today brings you the latest news from the Western Isles