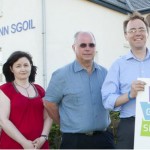 Shawbost, on the west side of Lewis, published its first Gaelic Language Plan, to aid the development and promotion of Gaelic in the area at a special concert in the area on Saturday night.
The Shawbost Gaelic Plan was drawn up by community representatives who came together to form the 'Shawbost Gaelic Forum', along with support from Bòrd na Gàidhlig, Comunn na Gàidhlig, Stòrlann, other Gaelic agencies and Comhairle nan Eilean Siar.
The Forum was formed following a Gaelic Open Day held in Shawbost where the findings of a research project, commissioned by Bòrd na Gàidhlig, on Language Attitude, Use and Ability in Gaelic in Shawbost were published.  Since its formation, the Forum has worked hard to identify the main priority areas where Gaelic will be promoted, concluding that a community language plan was the most appropriate step forward.
The Plan was officially launched by Scottish Government Minister for Learning and Skills with responsibility for Gaelic and Scots, Dr Alasdair Allan, at a special concert in Shawbost this Saturday.  Welcoming the Plan, Dr Allan said: "Shawbost is in the Gaelic heartlands but the very clear message from this report for Shawbost and communities like it is that support for Gaelic is not enough to guarantee its future – Gaelic also has to be more widely and less self consciously spoken in the community for there to be any assurance of its survival. This is the first plan of its type to be published and I am very pleased to see the Community taking such a positive step in recognising their importance in contributing to a sustainable future for Gaelic in Scotland"
The new Gaelic Plan for Shawbost identifies 8 areas of strategic development and sets out actions and organisations who will be responsible for delivering them. A copy of the Plan can be viewed on the Forum's new website at: www.siabost.co.uk. The community site also provides information on local news, events and contacts.
Bòrd na Gàidhlig Interim-Cathraiche (Chair) Elizabeth McAtear said: "This is a very important step in the development of Gaelic and I am delighted that it stems from a community driven desire to retain the language for the future. Communities where Gaelic is used are vital to the future of Gaelic in Scotland and speakers of Gaelic are the most valuable resource available to the language's vitality.  This is highlighted in the second National Gaelic Language Plan but we would also encourage other communities to follow Shawbost's example in preparing their own plans."
Shawbost Gaelic Forum Chair, Donna MacLennan said: "The Shawbost Gaelic Forum was created to work with other development agencies to try and stimulate activities in the community where Gaelic would be the working language.  We have drawn up this plan of activities and we now hope that those in the community will participate in the various activities and have fun whilst at the same time helping to strengthen the language within the community.  There are activities for everybody, both young and old, fluent speakers or learners. We want to see all members of the community taking part.  We are also looking for more people from the community who are willing to join our Forum to develop further Gaelic development work in the area."
// <![CDATA[ google_ad_client = "pub-8789619055654824"; /* 300x250, created 11/13/09 */ google_ad_slot = "3809754592"; google_ad_width = 300; google_ad_height = 250; // ]]&gt;<script type="text/javascript" src="http://pagead2.googlesyndication.com/pagead/show_ads.js">// <![CDATA[ // ]]&gt;</script>
Hebrides Today brings you the latest news from the Western Isles