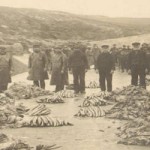 Western Isles  MSP, Alasdair Allan, has today written to Scottish Natural Heritage (SNH) urging them to continue to allow the famous annual guga hunt from Ness in Lewis to continue.
SNH are to review the dispensation which they give to allow this traditional hunt for gannets on Sula Sgeir as part of a wider assessment of their licensing practises.
Alasdair Allan commented:
"The guga hunt on Sula Sgeir is the only remaining one of its kind in the Scotland and plays a significant role in the culture of the Ness area of Lewis. I believe that SNH's initial assessment is right, which is that the hunt in its current form is sustainable. I have written to them urging them to stick to that position and to allow the Guga hunt to continue into the future.
"I respect the fact that there are many others who disagree with me but I am satisfied that the hunt presents no threat to the future of the species and it is currently licenced to include a condition that the birds are quickly and humanely dispatched.
"I am confident that SNH will accept the strength of these arguments and ensure this distinctive aspect of the life of the people of Ness will continue."
Hebrides Today brings you the latest news from the Western Isles