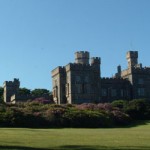 Development proposals for Lews Castle have reached a key stage and will be the subject of a community consultation event on Tuesday 28 June 2011 in the foyer of Lews Castle College.
The proposals, developed by Comhairle nan Eilean Siar and its partners, with funding from the Heritage Lottery Fund, include a new museum, archive and restoration of the castle for hospitality use.
As part of the consultation day Lews Castle will be opened to the public with access provided to the ballroom and some of the other rooms on the ground floor.  Should the funding applications be successful these rooms would be fully restored for hospitality use.
Angus Campbell, Leader of the Comhairle and Chair of the Lews Castle Trust Steering Group said:
'Since the initial funding award from HLF last year the project team has worked hard on the detailed development of the project.  This is a complex and challenging project, embracing the development of a new museum and archive serving the whole of the Outer Hebrides and the regeneration of the Castle for hospitality use and  public access.'
'We have consulted extensively with a range of stakeholders and users – from primary school pupils to local historical societies and national museums.  Before submitting the main funding bid to HLF and applying for planning permission and Listed Building consent for the main works, we want to share the proposals with the wider community.
The development proposals will be displayed in the foyer of Lews Castle College between 2pm and 8pm, with presentations by the project design team at 2.30pm, 5.30pm and 7.00pm.  There will be opportunities to discuss the proposals with the project team and to provide comments.
The doors of Lews Castle will be open between 3pm and 7.30pm.  Inside the castle, staff and volunteers will be available to provide information and take note of comments.  It is hoped that some visitors will be able to contribute information or stories about the castle which will help with the historical interpretation of the building.
The numbers visiting the castle at the same time will be controlled and there may be a need to queue at busy times.
To avoid traffic congestion, those who are able to walk or cycle to the College and Castle are encouraged to do so.  Car parking will be available at LewsCastle College.  Parking close to the castle on the day will be reserved for disabled people.  Comhairle staff and volunteers will be available to direct and assist people with limited mobility requirements.
Hebrides Today brings you the latest news from the Western Isles