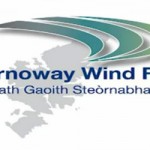 Members of the public are being invited to take an all-round view of the proposals for the Stornoway Wind Farm, following a major upgrade to the website to include photomontages and a 3-D drive-through illustrating the visual impact of the proposed site.
Following the public exhibition in March at Martin's Memorial Hall, the website has been enhanced by the presence of 3D drive-through modeling, which shows what the views of the wind farm will look like from Stornoway all the way out to the development location. In addition to this, a range of photomontages gives an update on the positioning of the turbines from various viewpoints around the Island.
"Stornoway Wind Farm"
Ron Peddie, Project Director at Stornoway Wind Farm said: "We have been delighted by the public response we've had to date, but we are keen that as many people as possible living on Lewis have an opportunity to see the 3-D modeling and photomontages.
"These images and models provide people with the fullest picture yet of exactly how the site would look following construction of the wind farm. The drive-through takes the viewer from Stornoway all the way out past the location of the turbines, in order to get a real feel for how the turbines would look as they drive out of town. The photomontages include images of the turbines from a variety of locations around Lewis.
"We hope that people will make use of these new materials on the website to see what the site would look like when operational."
The photomontages and 3-D modeling can be accessed at the Stornoway Wind Farm website at www.stornowaywind.com where updated information and maps will be available to view and download
Hebrides Today brings you the latest news from the Western Isles;