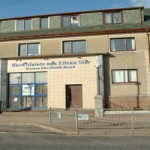 Western Isles  MSP, Alasdair Allan, has welcomed the publication of figures which show NHS Western Isles receiving more funding per head than any other health board in Scotland.
Alasdair Allan commented:
"The Western Isles is, of course, a uniquely challenging place to deliver health services, given the scattered population, the age profile of residents, and on-going health challenges.
"These issues are recognised in the funding allocation by the Scottish Government to NHS Western Isles for the year 2011/12. Despite a real terms cut of £1.8 billion by the UK Government to the money which Scotland has to spend this year health spending is largely being protected.

"While the NHS cannot possibly be said to be exempt from the financial pressures that apply to all public services just now I believe that this year's settlement in the Western Isles is a promising one. The Government has again accepted that spending per head in the Western Isles has to be substantially higher per head than the Scottish average of £1455.03.
"The Western Isles figure this year is £2203.97 per head. I believe that NHS Western Isles has made very significant progress financially since its problems five years ago and that just as importantly the morale of staff is substantially improved. I would congratulate all who work in the NHS in the islands for these achievements during these difficult times."
Hebrides Today brings you the latest news from the Western Isles