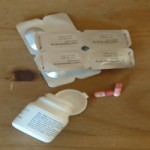 A campaign aimed at reducing an estimated £44 million wasted on medicines across Scotland every year has been launched today by four Local Health Boards in the North of Scotland, including NHS Western Isles.
The campaign aims to raise awareness about correctly ordering repeat prescriptions and helping people get the best from their medicines.
The potential money wasted on medicines across Scotland every year could pay for;
1,724 more community nurses
2,904 more drug treatment courses for breast cancer
44,000 more drug treatment courses for alzheimers
11,866 more hip replacements
5,349 more heart bypass operations
"Cannot be recycled."
GPs and pharmacists in NHS Western Isles, Grampian, Orkney, and Shetland have joined together in a bid to educate patients about their treatment and to help patients understand more about their medicines and the options they have.
One of the main concerns is medicines on repeat prescriptions, which are ordered and collected by patients but are not used. It is estimated that millions of pounds worth of unused prescription medicines are retained in individuals' homes, across the UK, at any one time.  It has also been estimated that between 40-50% of patients do not take or use their medicines as prescribed[1].  This can occur for a number of reasons, including:
patients not believing the medicine is necessary;
possible side effects;
fitting taking or using medicines into daily routines;
choosing between medicines if patients' feel they are taking too many, and;
cutting down or stopping medicines they have been taking for a long time.
The campaign is supported by television advertising, with colourful campaign materials that will be displayed in pharmacies and GP practices to raise awareness of medicine waste among both patients and carers. Further information may also be found on a new national websitewww.medicinewastescotland.com
NHS Western Isles Medical Director, Dr James Ward said:: "Everyone involved in prescribing, dispensing or reviewing medicines needs to make sure that patients are involved in making decisions about their treatment and that more medicines are taken as recommended.
"Unwanted drugs in the home may mean that patients are not getting the benefit they could be from their medicines. It also represents a large amount of waste. We want patients on repeat prescriptions to think about what they are ordering and only ask for what they need and are running out of. Any other medicines can be dispensed when needed at a later date, as once medicines have been dispensed, they cannot be recycled."
"Disposed of safely"
A recent report from the Department of Health (Nov 23rd 2010) cited Medicine Usage Reviews as a potential way to reduce waste. Earlier this year (28 January), NICE (National Institute for Health and Clinical Excellence) issued new guidelines to healthcare professionals on how to involve patients in making decisions about prescribed medicines and reduce the number of people not taking or using their medicines correctly.
NHS Western Isles Chief Pharmacist Dawn Tiernan said: "There are a number of reasons why medicines are going to waste, including people no longer taking or using the drugs, but in addition others may also be put at risk if unwanted medicines are left in the home.
"If anyone has any unused medicines at home we're encouraging them to take them back to either their dispensing GP or pharmacy for safe disposal and have a chat with the pharmacist or prescribing GP about their medicines on how to use them more effectively."
The campaign will encourage patients to have regular reviews of their medicines with their prescribing doctor or pharmacist or prescribing doctor to discuss any issues they may have with taking their medication
Anyone with unwanted medicines can return them to their local pharmacy where they will be disposed of safely.
Hebrides Today brings you the latest news from the Western Isles