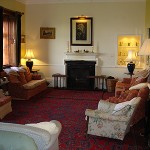 During Easter  Stòras Uibhist are offering a unique opportunity to Gàidhlig learners to spend a 'Learning Week' in South Uist and its surrounding communities, enhancing and developing their use of Gàidhlig through a total immersion programme.
The Learning Week will be based at the exclusive Grogarry Lodge http://www.grogarrylodge.com an all inclusive basis.
"Range of culturally based activities"
The week will take the format of interactive tuition in the mornings, followed by a wide range of culturally based activities related to the learning sessions including hill / machair walks, museum and cultural tours, an autobiographical presentation by a local bard, fishing and weather permitting, an exciting and thoroughly memorable boat trip to the second most southerly island of the Western Isles; Mingulay.
Evening entertainment will encompass a range of opportunities to see, hear and take part in traditional dancing, song, ceilidhs and music sessions – so bring your instruments!
"Homeland of the Gaels"
This is an exceptional opportunity for learners at an intermediate level to experience Hebridean culture and apply their Gaelic in an informal atmosphere in the homeland of the Gaels within the exquisite and historical island setting of a traditional Estate lodge.
The programme will run from 10am Monday the 5th April 2010 with departures on Saturday morning, 10th April 2010.
For further details please go to www.storasuibhist.com/gaelic-week or contact Deirdre MacEachen on 01878 700101 or e-mail [email protected]
Hebrides Today brings you the latest news from the Western Isles
.