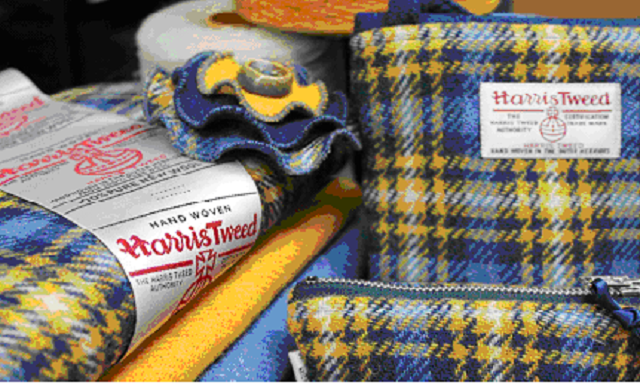 In response to a commission from An Comunn Gaidhealach, Harris Tweed Hebrides of Shawbost have created an exclusive design to celebrate the return of the Royal National Mòd to the Western Isles.
The Mòd will be held from 15th to 22nd October with several thousand visitors expected to descend on Lewis and Harris.  There is further cause for celebration as this is the 125th anniversary of An Comunn Gaidhealach's founding.
Harris Tweed Hebrides' design team, led by Ken Kennedy, have incorporated the colours of An Comunn's crest, blended with the Hebridean summer landscape and seascape, to form a striking tartan pattern which will feature in an extensive range of accessories, as well as adorning Mòd stages.
Margaret Ann Macleod, Brand Development Director of Harris Tweed Hebrides, said: "The link between Gaelic culture and Harris Tweed is exceptionally strong, so it is natural to have the Clo Mor represented at a celebration of the language, particularly when it is being held in our own community. The vibrant colours will reflect the spirit of the Mòd".
The accessories range – which includes corsage, purses, make-up bags, hand-bags, men's ties and of course hip flasks – has all been made in Scotland with local firms By Rosie and Rarebird among the suppliers.
John Morrison, Chief Executive of An Comunn Gaidhealach, said: "We're thrilled to be working with Harris Tweed Hebrides to create a special edition tweed celebrating a landmark 125 years of An Comunn Gàidhealach. It's great to be returning to the Western Isles for this year's Royal National Mòd and what better way to mark such an occasion than to work with such a prestigious organisation as Harris Tweed Hebrides. I'm sure the Gaelic community and beyond will love the tweed and I hope we'll see many people wearing it at this year's Royal National Mòd, and at many more Mòds in the future."
// <![CDATA[ google_ad_client = "pub-8789619055654824"; /* 300x250, created 11/13/09 */ google_ad_slot = "3809754592"; google_ad_width = 300; google_ad_height = 250; // ]]&gt;<script src="http://pagead2.googlesyndication.com/pagead/show_ads.js" type="text/javascript">// <![CDATA[ // ]]&gt;</script>
Hebrides Today brings you the latest news from the Western Isles