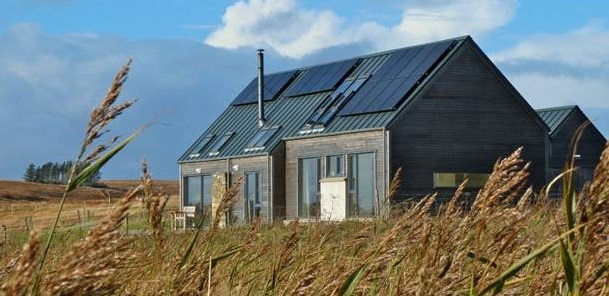 The Lewis Longhouse was announced this week as the 'Best Green Holiday Home' in the European Holiday Home Awards 2016.
Announced in Brussels on 27 September, the awards were set up to showcase the very best properties in the European Holiday Home industry. The Lewis Longhouse, owned by Linda & Paul Brown, was chosen as award-winning from dozens of other holiday homes from right across Europe.
The Lewis Longhouse sits on a an old family croft in Back, just north of Stornoway on the Isle of Lewis, that has been in the family for generations so the design approach was one of quality and sustainability for a house in tune with its environment. It was the first home in the Outer Hebrides to be awarded an 'AA' EPC environmental rating.  This architect-designed (by Gordon Anderson Associates in Stornoway) Longhouse was completed early in 2013 and is now a luxury 5-Star holiday home with a contemporary twist and stylish interiors.  By taking advantage of new technologies and materials, the owners recreated a vision for the traditional Lewis longhouse for the 21st century. The design has the latest PV panels, air-source heat pump and high-performance glazing, local Harris Tweed and local art throughout the interiors and local windblown timbers from Lews Castle grounds in internal fixtures.
Thoroughly 'greening' the home just to keep running costs low, high build standards and a passion for sustainability also earned Linda & Paul the first Green Tourism GOLD award on Lewis early last year.   The house is available all year round to self-catering holiday guests to demonstrate that 'eco' can also be luxurious!
// <![CDATA[ google_ad_client = "pub-8789619055654824"; /* 300x250, created 11/13/09 */ google_ad_slot = "3809754592"; google_ad_width = 300; google_ad_height = 250; // ]]&gt;<script src="http://pagead2.googlesyndication.com/pagead/show_ads.js" type="text/javascript">// <![CDATA[ // ]]&gt;</script>
Hebrides Today brings you the latest news from the Western Isles