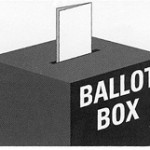 Returning Officer Malcolm Burr is reminding voters in the An Taobh Siar agus Nis By Election what they need to know to have their say on Polling Day:
Polling Stations will be open from 7.00am to 10.00pm
When voting at the Polling Station it is helpful to take your Poll Card with you although you do not require it to vote.
Electors may wish to consider avoiding peak times and attend Polling Stations at quiet periods such as mid-morning or mid-afternoon.
Polling Station staff will give you your Ballot Paper and answer any questions you have regarding the Electoral process.
If you applied for a Postal Vote, it must be received by the Returning Officer by 10.00pm on Wednesday 7 October 2015. If you have left it too late to post, you can drop it in at any Polling Station in the Ward or at the Election Office, Council Offices, Sandwick Road, Stornoway.
Vote using numbers and rank the candidates in order of choice using 1, 2, and 3. Put the number 1 in the voting box next to your first choice, a 2 in the voting box next to your second choice, a 3 in the voting box next to your third choice. You can make as many or as few choices as you wish.
// <![CDATA[ google_ad_client = "pub-8789619055654824"; /* 300x250, created 11/13/09 */ google_ad_slot = "3809754592"; google_ad_width = 300; google_ad_height = 250; // ]]&gt;<script src="http://pagead2.googlesyndication.com/pagead/show_ads.js" type="text/javascript">// <![CDATA[ // ]]&gt;</script>
Hebrides Today brings you the latest news from the Western Isles