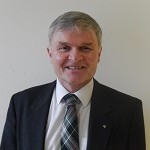 Highlands and Islands MSP Mike Mackenzie has welcomed a strategy launched by the European Commission aimed at boosting economic growth through the roll out of fast broadband and affordable delivery charges.
The 'Digital Market Strategy' was outlined by EC Director of Resources Gail Kent during an evidence session with the Parliament's Infrastructure and Capital Investment (ICI) Committee.
Mr Mackenzie – a member of the ICI Committee, said:
"The Scottish Government is spending £127 million on a fibre – optic backbone which will support provision of high speed broadband across the Highlands and Islands.
"However, this issue really ought to have been dealt with at UK level by regulation as telecommunications are reserved to the Westminster Government.
"I hope that something can be done at EU level to encourage a universal service obligation or something similar that would allow my constituents future proofed access to high speed connectivity and 4G across the Highlands and Islands and other rural parts of Scotland.
The Highlands and Islands MSP added:
"My constituents are dealt a double whammy – because not only do they have the difficulties of very poor connectivity, but when they do manage to get a message through to a supplier and place an order they're then faced with very high delivery charges.
"Once again those matters are reserved to the UK parliament and I hope that the Commission's work will address the issue of high delivery charges."
// <![CDATA[ google_ad_client = "pub-8789619055654824"; /* 300x250, created 11/13/09 */ google_ad_slot = "3809754592"; google_ad_width = 300; google_ad_height = 250; // ]]&gt;<script src="http://pagead2.googlesyndication.com/pagead/show_ads.js" type="text/javascript">// <![CDATA[ // ]]&gt;</script>
Hebrides Today brings you the latest news from the Western Isles