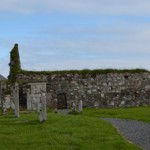 Vicious storms have battered her stonework in recent years, threatening the survival of the ancient Ui Church ruins at the Braighe, but now the walls have been stabilised.
Now the public can see for themselves the progress at this much loved landmark at an open day at Eaglais na h-Aoidhe on Saturday 18th July, from 10am to 4pm.
Professional advice was sought by the Urras Eaglais na h-Aoidhe (the charitable trust responsible for the church) to strengthen the building with piles inserted between the church and the sea providing a protective bunker for the eroded seawall.  Then the area was filled with stones and the level of the path was raised to nearer the base of the church.  A wooden rail finishes the top of the piles.
During the open day trust directors and an archaeologist will be available to answer questions and to listen to your ideas for the future.
There will be an opportunity to buy books about the church and other gifts and Urras Eaglais na h-Aoidhe are planning some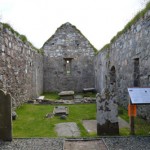 activities for children.  You will also be able to see and contribute to the research we are doing on the graveyard.
Also known as St Columba's Ui Church, this medieval ruin is located at the Point end of the Braighe isthmus between Point and Stornoway Airport overlooking Broad Bay.
The church is one of the most important archaeological sites on Lewis.  It was the main church on the Island during the medieval period and is a burial place for Macleod chiefs and the Mackenzies who controlled the island in later years. 
// <![CDATA[ google_ad_client = "pub-8789619055654824"; /* 300x250, created 11/13/09 */ google_ad_slot = "3809754592"; google_ad_width = 300; google_ad_height = 250; // ]]&gt;<script src="http://pagead2.googlesyndication.com/pagead/show_ads.js" type="text/javascript">// <![CDATA[ // ]]&gt;</script>
Hebrides Today brings you the latest news from the Western Isles