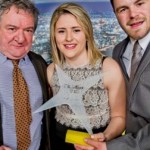 STARS of the big screen turned out in Glasgow to present a number of awards at the seventh national Gaelic Film Awards ceremony.
MG ALBA, the Gaelic Media Service, was celebrating another successful FilmG competition, its prestigious Gaelic screen talent awards, which were held at The Old Fruitmarket, Glasgow and hosted by Fiona MacKenzie, face of BBC ALBA, and Niall Iain Macdonald, TV and radio presenter.
Guest presenters at the event included Scottish actor and comedian Sanjeev Kohli, best known as Navid in the much loved Still Game sitcom. Also in attendance was Ken Stott, whose recent big screen credits include The Hobbit and Chronicles of Narnia, although he is arguably best known for his role as Inspector Rebus in the adaptations of the Ian Rankin books.
Also presenting awards were Cailtin MacNeil and Alana MacInnes, the girls behind the #thedress phenomenon which trended throughout the world in February and had stars like Taylor Swift and Kim Kardashian getting involved in the online discussions.
FilmG were also delighted to have young South Uist woman, Gemma Steele, presenting an award. She recently starred in a documentary on BBC ALBA about her work setting up an orphanage in Kenya.
Sanjeev Kohli, who has himself recently been learning Gaelic, said: "My evening at the FilmG awards ceremony has been, frankly, 'sgoinneil' (smashing!), especially as I've been able to put into context some of what I've been learning at my Gaelic lessons.
"It's also been great to see the work of these talented young people on the big screen. Unfortunately they have now become my competition as I am now a major playa in the Gaelic media!
"Congratulations and best of luck to all the talent in the future – well, except when they're up against me for the next big role!"
Renowned actor, Ken Stott, presented the award for the Best Student Film, which was won by 'Crìsdean Cunnartach', a hilarious parody of Danny MacAskill's 'The Ridge'.
He said: "I spend a great deal of time on the Isle of Skye where I often meet students from the Gaelic College, Sabhal Mòr Ostaig, so I was very happy to be able to present the award for the Best Student Film to students from the college.
"It's been a really great night and I'd like to wish the entrants all the best for their future careers; hopefully, in the broadcast industry."
Dr Alasdair Allan, Scottish Government Minister for Learning, Science and Scotland's Languages, was also in attendance.
Dr Allan said: "Once again, this year's FilmG has drawn together an outstanding breadth of award nominees. The Scottish Government welcomes the opportunity to work with MG ALBA and is proud to sponsor these awards. Every film shortlisted is a welcome addition to Scotland's diverse cultural landscape.
"I am particularly pleased to see so many young filmmakers involved this year. Filmmaking, and introducing Gaelic to new audiences, can help to ensure a secure and vibrant future for Gaelic in Scotland."
Donald Campbell, MG ALBA chief executive, said: "FilmG received a record number of submissions this year, with 79 films entered across the youth and adult competitions.
"We are delighted to see FilmG continue to grow and the quality of films continue to impress our judging panel. These films have been entered by both Gaelic and non-Gaelic speakers and we are pleased that the competition can promote Gaelic so well whilst remaining so accessible to all.
"We are encouraged by the enthusiasm for FilmG and the level of creative talent that it uncovers, as was demonstrated by the nomination of Latha Eile, Saoghal Eile – one of last year's films – for the Best Short Drama at Celtic Media Festival 2015.
"We are certain that this year's participants can enjoy similar success in the creative industries and we wish them well as they put some of the skills and confidence they have gained during FilmG to good use."
Creative Scotland, who are this year sponsoring two prizes, the Best Drama and Best Music video in the Open competition, were also very pleased with the standard of filmmaking on offer.
Brian Ó hEadhra, Gaelic arts and culture officer at Creative Scotland, said: "We commend the work of FilmG and their support and development of young filmmaking talent through the medium of Gaelic. It's great to see these two winning films on the big screen. Congratulations to this year's winners and nominees."
FilmG has unearthed a wealth of creative talent since it was established seven years ago, and was named Best Cultural Event at the 2012 Scottish Event Awards.
This year's competition was the most successful yet with a record 79 entries and many were inspired by this year's theme, 'Gealladh' (Promise/Vow/Intention).
// <![CDATA[ google_ad_client = "pub-8789619055654824"; /* 300x250, created 11/13/09 */ google_ad_slot = "3809754592"; google_ad_width = 300; google_ad_height = 250; // ]]&gt;<script src="http://pagead2.googlesyndication.com/pagead/show_ads.js" type="text/javascript">// <![CDATA[ // ]]&gt;</script>
Hebrides Today brings you the latest news from the Western Isles