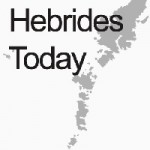 A prehistoric basket found on the coast at Baleshare in North Uist has been successfully extricated and saved for full analysis.
The basket was in danger of being washed away after being uncovered by coastal erosion. Archaeologists from the Comhairle and AOC* and members of the local community worked together to save the artefact which is thought to be up to 3,500 years old.
Deborah Anderson, Regional Archaeologist, said: "I'm delighted the rescue was successful, the archaeologists were brilliant and the local community were so helpful, we couldn't have done it without them."
The basket will now be taken to a conservation laboratory for analysis.
// <![CDATA[ google_ad_client = "pub-8789619055654824"; /* 300x250, created 11/13/09 */ google_ad_slot = "3809754592"; google_ad_width = 300; google_ad_height = 250; // ]]&gt;<script type="text/javascript" src="http://pagead2.googlesyndication.com/pagead/show_ads.js">// <![CDATA[ // ]]&gt;</script>
Hebrides Today brings you the latest news from the Western Isles