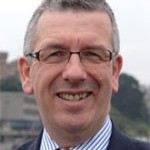 Highlands and Islands (Scottish Labour) MSP, David Stewart is hitting out at a Scotland wide shortage of trained Educational Psychologists which has been branded as "dangerously low".
The North MSP is highlighting this critical shortage ahead of a question on the issue to the Education Secretary, Mike Russell which will be taken in the Scottish Parliament Chamber during General Questions on Thursday (20th November).
Mr Stewart is expected to ask Scottish Government "what support it provides to people who want to train as educational psychologists?" This is set against the backdrop of the National Association of Scottish Principal Educational Psychologists (ASPEP) and Scottish Division of Educational Psychologists (SDEP) who published a report which identified that the number of trained educational psychologists in Scotland is "dangerously low" and that psychological services in Scotland were reporting a significant increase in demand.
Mr Stewart said
"The Scottish Government has failed to support people who want to train as educational psychologists and this has led to now dangerously low levels of trained practitioners in Scotland. I first raised this issue last year with the Scottish Government and one year on, with the situation becoming more critical, they have still failed to act on supporting people into training."
"Up to a quarter of Scotland's educational psychologists could retire in the next four years and there are far too few new trainees coming into the field to replenish there numbers."
"One of the key reasons this dire situation has arisen is the Scottish Governments decision to remove the bursary paid to Trainee Educational Psychologists in 2012, which now means that each student is responsible for meeting the entire £18,350 university fees from their own pockets, along with living expenses over the space of two years, clearly a huge burden that is financially crippling for those currently on courses and has led to a 70% drop in applications by new candidates."
"The Scottish Government must recognise the current situation is untenable and they must look again at how they support trainee educational psychologists, otherwise we are facing a ticking time bomb in psychological services across Scotland in under a decade."
Students who are accepted on to the two year course are eligible for a Career Development Loan £3,400 across the two year period, which leaves a shortfall of £14,950 in course fee's alone, and even more factoring in travel, accommodation and living expenses which can further disadvantage students outwith the central belt and particularly those in the Highlands and Islands.
// <![CDATA[ google_ad_client = "pub-8789619055654824"; /* 300x250, created 11/13/09 */ google_ad_slot = "3809754592"; google_ad_width = 300; google_ad_height = 250; // ]]&gt;<script type="text/javascript" src="http://pagead2.googlesyndication.com/pagead/show_ads.js">// <![CDATA[ // ]]&gt;</script>
Hebrides Today brings you the latest news from the Western Isles