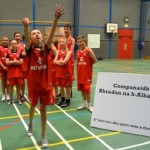 The first 'Basketball Festival', hosted by basketballscotland and supported by The Scottish Salmon Company, was held on Wednesday at Liniclate High School, Benbecula.
More than 70 P6 and P7 pupils attended the event which was organised in conjunction with Active Schools to promote positive lifestyles to young people through sport, healthy eating and general wellbeing.
The 'Basketball Festival' allowed local children to demonstrate their ability through skills training, delivered by basketballscotland, before taking part in a tournament aimed at promoting the sport in a friendly and competitive environment.
The afternoon's games were officiated by high school pupils who undertook the 'Getting Started Referee Award' run by Chris Dodds, FIBA referee and Head of Communities at basketballscotland.
The event marked the first festival of its kind on the island and was supported by The Scottish Salmon Company as part of its wider involvement in the development of sport in the Western Isles.
Debra Nichol-Storie, HR Director of The Scottish Salmon Company: said "As an employer in rural and island communities we invest in the areas where our staff and their families live and work. By hosting the 'Basketball Festival' here today we are hoping to promote healthy lifestyles to the next generation in a way that is both fun and competitive."
John Kerray, basketballscotland Highlands amd Islands Regional Development Manager, said: "It is great to see a business supporting sport in their local community.
"This programme will support our current efforts to create and enhance basketball programmes and structures to give young boys and girls of all abilities the opportunities to play more basketball more regularly in the Outer Hebrides."
// <![CDATA[ google_ad_client = "pub-8789619055654824"; /* 300x250, created 11/13/09 */ google_ad_slot = "3809754592"; google_ad_width = 300; google_ad_height = 250; // ]]&gt;<script type="text/javascript" src="http://pagead2.googlesyndication.com/pagead/show_ads.js">// <![CDATA[ // ]]&gt;</script>
Hebrides Today brings you the latest news from the Western Isles