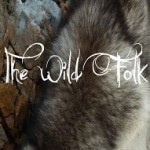 Following in the wake of Scandi noir comes Scottish noir. Scotland already produces some of the top crime fiction authors in the world and Scottish noir is a favourite among readers worldwide.
Appropriate for a novel in the Scottish noir genre, Uist author Flora Kennedy's THE WILD FOLK was released last week on Black Friday, 13 June.
THE WILD FOLK, available as an ebook on Amazon, is set on the Isle of Coll and is a vivid tale of murderous family secrets and mysterious folklore. Described by one reviewer as "Nature writing with juicy bits", it tells the story of Lorna and her childhood friend Lachie and the dark secrets that rise to the surface when his body is found on the shore at Struan.
"It is a quiet story about family, the choices we make and the what we choose to believe in" says another reviewer. Flora Kennedy's grandfather Duncan Kennedy was born and raised on Coll where she herself spent much of her childhood in the 1970's. She is the webmaster for An Comunn Collach, the Coll Association website. Kennedy's family is from Coll, North Uist and Skye and she lives in Uist.
A published poet, Kennedy's short story TENDERNESS was published in the Bloody Scotland International Crime Writing Festival's WORTH THE WAIT ebook of short stories. Flora has written 3 novels while working as a journalist and advertising writer in Scotland, England, Australia and New Zealand. She is Creative Director of Inner Wild, wilderness wear for dearhearts, Bibliopet, Outlander Originals and Inner Wild Therapy.
// <![CDATA[ google_ad_client = "pub-8789619055654824"; /* 300x250, created 11/13/09 */ google_ad_slot = "3809754592"; google_ad_width = 300; google_ad_height = 250; // ]]&gt;<script type="text/javascript" src="http://pagead2.googlesyndication.com/pagead/show_ads.js">// <![CDATA[ // ]]&gt;</script>
Hebrides Today brings you the latest news from the Western Isles