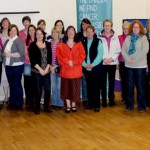 One hundred per cent of women who attended a recent Ladies Night event in Uist to mark Breast Cancer Awareness month (October) said that they will now regularly check their breasts as a result of the event.
Ladies Night took place in Balivanich Hall, and was organised after the extremely successful event in Stornoway in April 2013. The event took place on October 1 and was organised by NHS Western Isles Health Promotion Officer, Kenna MacInnes.
Women were invited to come along to a film night of their choice, which they could vote for on the NHS Health Information and Resources Services (HIRS) Facebook page. The film screened was 'Bridesmaids' and on the night, in attendance was Hazel Hebditch, Specialist Nurse for Breast and Lymphodema Care, along with two ladies, Fiona Ballantyne and Diane MacPherson, who shared their breast cancer experiences. 
The night started at 6.30pm with an opportunity for ladies to browse health information stalls on various cancer topics specific to women, along with a stall from the Alcohol and Drug Partnership (ADP) which had non-alcoholic cocktails (mocktails) for people to try with an opportunity to win two prizes on the night.
The event started with Hazel taking everyone through a short visual demonstration on how to be 'Breast Aware' and she then introduced Fiona and Diane, who, so movingly, shared their experiences of breast cancer, whilst emphasising the importance of checking your breasts regularly and participating in the three-yearly national Breast Screening Programme. The film was then screened and many a laugh was heard in the crowd.
NHS Western Isles would like to thank everyone who attended on the night. There was a donation box for Breast Cancer Care, which raised a fantastic £66.28. Special thanks go to Fiona Ballanytne and Diane MacPherson, and also to Hazel Hebditch, who demonstrated how to be Breast Aware. Thanks also to Donald Graham (Balivanich Hall) for all his help with setting up and screening the film, and providing the venue, free of charge.
From the evaluations on the night, 92 per cent of the women said that they now felt more Breast Aware, knowing what signs and symptoms to look out for, as a result of attending the event, and all respondents said they would now regularly check their breasts.
One in nine women in Scotland will develop breast cancer; it touches many lives. Many of us have a friend or family member who has been diagnosed with it and we know that can be scary for a lot of women.
But breast cancer is treatable, if it's found early enough. And lots of women do survive it. In fact, you're five times more likely to survive breast cancer if it's caught in its earliest stage.
Don't get scared, get checked!

// <![CDATA[ google_ad_client = "pub-8789619055654824"; /* 300x250, created 11/13/09 */ google_ad_slot = "3809754592"; google_ad_width = 300; google_ad_height = 250; // ]]&gt;<script type="text/javascript" src="http://pagead2.googlesyndication.com/pagead/show_ads.js">// <![CDATA[ // ]]&gt;</script>
Hebrides Today brings you the latest news from the Western Isles