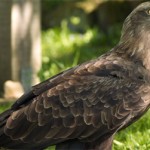 RSPB Scotland has welcomed the assistance of staff from Marine Harvest in South Uist in helping to monitor the local population of white-tailed eagles (also known as sea eagles).
Local RSPB warden Stuart Taylor said, "We are delighted and very grateful for the help that staff from Marine Harvest have provided in helping us check the progress of the eagles in Uist. Several years ago Marine Harvest applied to establish a fish farm on the east side of South Uist. Ironically the site proposed was rejected because of its proximity to an eagle nest. However following discussions a better location was agreed upon and since then the operation and the eagles have happily co-existed despite extra activity in the eagles' territory.
"Up until this time, RSPB staff had had to walk for more than two hours to check on the nest but gladly took up an invite from the staff at Marine Harvest of the chance to monitor the nest from their "floating office". A partnership has become established between Marine Harvest and the RSPB, whereby both parties keep in eye on the local environment and report any abnormal incidents.  When the nest checks are due, the Marine Harvest staff are always keen to accommodate us and have helped to check sites along the coast for further nest sites too."
Mr Taylor revealed that the staff from Marine Harvest had helped to reveal a mystery.
"Each year when the chicks are ringed, food items from the nest are diagnosed to see what the birds have been feeding on. Sometimes mackerel remains have been found, but these fish are usually found in deeper waters which are out of reach to the eagles. This raised the question, "How did mackerel feature in the bird's diet?"
"The Marine Harvest boys were able to shed some light on the situation.  On one particular day they had watched the eagles fly out from their nest and repeatedly rob gannets of their catch in the manner of a skua. Gannets, of course, are well capable of fishing for mackerel. And so the mystery was solved!"
Duncan MacQuarrie, Marine Harvest farm manager at Stulaigh said, "We're really pleased to be able to take part and help the RSPB with this important work. All of us on the farm are interested and by keeping a close eye on the birds we can learn more about their behaviour and share the experience."
Mr Taylor revealed that the local population of eagles is doing well. "Each year the young eagles have rings put on their legs so that their movements and other aspects of their life can be gleaned. In 2013 a record eleven chicks were ringed from nine nests in the Uists."