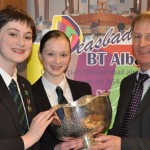 The announcement of the preliminary rounds of the prestigious BT Scotland National Gaelic Schools Debate have been made and the 2012 competition looks set to be another excellent year for the Debate.   The first two rounds will again be held in An Lanntair in Stornoway on Wednesday the 7th and Thursday the 8th of November 2012.  The competition, now in its 14th year, continues to attract schools from across the country and is testament to the success of Gaelic Medium Education at national level over the last number of decades.  Twenty two teams from twenty one schools are due to compete in the 2012 competition, making it the biggest yet.   In the second round, twelve teams will compete with the four teams with the highest points progressing to the final stages which will be held in Edinburgh on Tuesday and Wednesday the 27th and 28th of November.   The draw for Round One is as follows:
Inverness Royal Academy V Oban High School
Calderglen High School V Grange Academy
Lionacleit School V Wallace High School
Ardnamurchan High School V Tain Royal Academy
The Nicolson Institute V Castlebay Community School
Gairloch High School V Bishopbriggs Academy
Portree High School V James Gillespie High School
Glasgow Gaelic School A V Lochaber High School
Plockton High School V Mallaig High School
Sir E Scott V Dingwall Academy
Glasgow Gaelic School B V Academy Hazlehead
Calum Iain Macleod, Director of Development at Comunn na Gàidhlig, and Chairman of the National Gaelic Schools' Debate Management Committee commented:
"Following the success of the 2011 Debate which saw the Hulme sisters of Gairloch emerge as triumphant champions, an extremely high level of competition was set and we look forward to another year of interesting and thought provoking debates.  We would particularly like to welcome back Oban High School and Grange Academy from Kilmarnock who took part in the competition for the first time last year.   The hard work and dedication shown by the participating schools year on year is particularly encouraging. We are extremely grateful to BT Scotland for their continuing support of the Debate – they have been supporting the Debate now for 14 years – and also to the other organisations for their support.  Without the support of BT Scotland and the other organisations we simply would not be able to hold the Debate."
BT Scotland Director Brendan Dick added:
"BT Scotland has supported the schools Gaelic debate for the past 14 years as an incentive to encourage more youngsters to speak the language and this is reflected in this year's record number of entries. It's most encouraging and I wish all the participants the very best in the competition".
For more information on the Deasbad please visit www.deasbadbtalba.com or log on to the Deasbad's Facebook, Deasbad Naiseanta BT Alba.
// <![CDATA[ google_ad_client = "pub-8789619055654824"; /* 300x250, created 11/13/09 */ google_ad_slot = "3809754592"; google_ad_width = 300; google_ad_height = 250; // ]]&gt;<script type="text/javascript" src="http://pagead2.googlesyndication.com/pagead/show_ads.js">// <![CDATA[ // ]]&gt;</script>
Hebrides Today brings you the latest news from the Western Isles