The recent roadshow aimed at raising the importance of detecting cancer in the earliest stages of the disease, successfully raised key messages amongst the local population, with around 1,250 people engaging with local healthcare staff and roadshow representatives.
The roadshow visited Tesco in Stornoway for two days at the end of March (March 29 and 30) as part of a £30 million drive by the Scottish Government to improve cancer survival rates in Scotland.
Hundreds of information leaflets were handed out over the two days, and around 1,250 people spoke to one of the healthcare professionals in attendance at the roadshow, to either hear about the campaign or have a more in depth discussion and learn more about how to spot the signs and symptoms of cancer.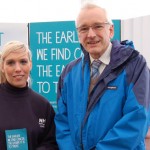 The Detect Cancer Early national awareness campaign focuses on the three most common cancers in Scotland – breast, lung and bowel cancer. It aims to save more than 300 lives by 2016 and will also address people's fear and lack of knowledge about the prospects of survival from cancer, as well as tackling their apprehension to approach their doctor.
NHS Western Isles Nurse Director/Chief Operating Officer Nigel Hobson said: "Early detection is crucial to improving cancer survival rates and our GPs want to hear from anyone who has symptoms that they think could be cancer. We would also urge people in the Western Isles to participate in screening programmes if they are eligible.  Visit www.wihb.scot.nhs.uk, and click on the 'Cancer – don't get scared get checked' icon for further information."
Hebrides Today brings you the latest news from the Western Isles