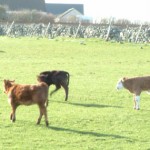 Scotland's rural sector is well equipped to cope with the challenges that lie ahead, according to Rural Affairs Secretary Richard Lochhead.
After a year that brought everything from extreme weather and sheep electronic identification to high livestock prices and record food and drink sales, Mr Lochhead said he continues to detect a mood of optimism in Scottish agriculture.
And, with the Common Agricultural Policy due for reform, he said 2012 was set to be a key year for Scotland's farmers.
Mr Lochhead said:
"Farmers make a tremendous contribution to our lives on a daily basis – everything from producing food for the nation to safeguarding the landscape and biodiversity that makes our countryside so spectacular.
"The sector not only underpins our rural economy but supplies the outstanding raw materials for a booming food and drink industry that is a pillar of our national economy.
"Agriculture has a vital role to play in Scotland which is why it's crucial that we get a fair deal for Scotland's farmers when the Common Agricultural Policy is reformed. That means we need a CAP which is flexible, recognises Scotland's diverse needs and which supports genuinely active farmers.
"Since the starting gun was fired on the CAP reform negotiations back in October, we have all been working together to understand what the detail of the proposals mean for Scotland.
"There have also been a number of roadshows round the country to explain the detail and these will continue into the New Year, when there will also be a consultation to allow people to give us their views on Europe's proposals.
"The negotiations in Europe are likely to take some time but 2012 will be a key year to ensure that we have a CAP that is fit for purpose and delivers support for Scottish farmers – enabling them to continue protecting our iconic countryside and producing the food for which we are world-renowned.
"I will also ensure our voice is heard loud and clear in the corridors of Whitehall and Brussels. I am also determined in 2012 to work with the industry to tackle running sores such as the regulatory burden as well as some of the other big issues like rising input costs.
"As we look ahead, I'd also like to wish all our farmers a very happy New Year. I hope 2012 will be a good year for farmers, bringing the reforms they need for a flourishing future."
The European Commission published its proposals to reform the Common Agricultural Policy (CAP) in October and negotiations are currently ongoing to reach agreement, ahead of implementation in 2014 or 2015.
Hebrides Today brings you the latest news from the Western Isles