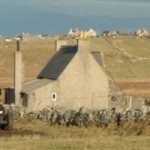 Plans to make the Crofters Commission more democratic and accountable have been unveiled today by Environment Minister Stewart Stevenson.
The proposals recommend that the majority of the Crofters Commission, to be renamed the Crofting Commission from April 2012, should be elected by crofters. A consultation on the draft plans, which starts today, also covers the constituency boundaries for the elections and who should be eligible to vote.
Mr Stevenson said:
"Through having directly elected voices within the future Crofting Commission, voted in by crofters for crofters, I am confident that we can build a strong partnership to deliver the growing, prosperous, inclusive and sustainable crofting communities we all want to see.
"This consultation considers the detail of how Commissioners will be elected and I would encourage all those with an interest in how the new Commission is run to have their say."
The consultation runs from July 13 to October 5, 2011.
The Crofting Reform (Scotland) Act 2010 was passed by Parliament on July 1, 2010. The Act makes provision for elections to be held to the Crofting Commission, to make it more democratic and accountable
It states that the Crofters Commission (to be renamed the Crofting Commission from April 1, 2012) must consist of no fewer than five and no more than nine members. Of those members no fewer than two people are to be appointed by Scottish Ministers and no more than six people elected. These six members will be elected by crofters, ensuring the majority of the Commission are elected members.
Hebrides Today brings you the latest news from the Western Isles