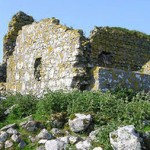 Western Isles  MSP, Alasdair Allan, has today welcomed news that the Teampull na Trionaid Conservation Association in North Uist is to receive almost £200,000 Scottish Government funding to conserve and stabilise the ruins of the medieval church and college of Teampull na Trionaid.
Dr Allan, who has been involved in the campaign to safeguard this monument, commented:
"I am delighted that the Scottish Government has today committed £194,000 under its Rural Priorities scheme to allow work to proceed at Teampull na Trionaid, which is one of the most important historic buildings in the Western Isles.
"This is great news not just for the community in North Uist but for Scotland as a whole, as this building is of huge significance and lays claims to be the site of Scotland's first university. I would like to congratulate all those who have campaigned for this funding, which I think will make the difference between this important building surviving and being lost.
"The community in North Uist had recognised that in recent years the buildings had fallen into an extremely fragile state, and that their future was in real doubt. Today's funding will allow Teampull na Trionaid Conservation Association, I hope, to undertake the work for which they have already done so much preparation.
"I understand that this funding will enable urgent structural work to be carried out and ensure that the site is fully opened up for visitors to appreciate in the future. I look forward to hearing more about this exciting project, which has tourism potential as well as cultural benefits for the Western Isles as a whole."

Hebrides Today brings you the latest news from the Western Isles