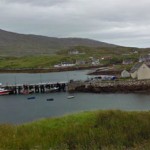 Western Isles MSP Alasdair Allan has today said that there is a great opportunity for the Island of Scalpay after landowner Mr Fred Taylor wrote to all residents offering them the ownership of the island free of charge.
Mr Allan has contacted a number of people in Scalpay to assess the island's reaction to what he called the "historic opportunity" provided by landowner Fred Taylor's offer. Scalpay has a population of just over 300 and is now connected by bridge to the Isle of Harris.
Dr Allan commented:
"I am pleased at today's news that Mr Taylor has written to all residents on Scalpay making this very public-spirited offer.
"Scalpay is clearly in need of jobs and development, and anything which can be done to put power in the hands of people on the island is to be welcomed.  But the decision is one for people in Scalpay themselves to make in the end.  I am in touch today with a number of people in Scalpay offering any assistance I can in the process that lies ahead.
"I note that Mr Taylor has outlined two possible scenarios – one where the island is owned by a trust based on the island, and another where it forms part of the larger North Harris Trust, which is itself community owned.  These are decisions for people in Scalpay to make, but I believe that either option provides a great opportunity for people in the island to make decisions about the land they live on."
Hebrides Today brings you the latest news from the Western Isles