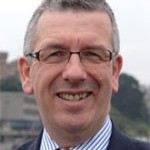 Highlands & Islands (Labour) MSP, David Stewart, has welcomed the Loganair announcement that they are introducing a new compassionate travel policy on its 19 Scottish routes to give eligible customers access to a 50 per cent discounted fare in times of a family emergency.
The compassionate fare, developed in partnership with the Facebook campaign page established by Shetland-based Scott Preston and James Stewart, will offer the reduced rate flights and flexibility to customers who need to make bookings at short notice on compassionate grounds.
Both Loganair and the campaign's volunteers have worked together to agree the terms, conditions and process of the policy – believed to be the first of its kind for a UK commercial airline. The new scheme will be available to customers who need to travel throughout Scotland at short notice for the following reasons:
The bereavement of an immediate family member
Cases of critical and unexpected illness involving an immediate family member
An immediate family member is receiving in-patient treatment
Loganair's compassionate fare policy will also include increased flexibility without charge when bookings are required to be amended or even cancelled.
David Stewart said "This is indeed a welcomed gesture from Loganair who are now offering a reduced fare for their customers at times when they in fact need support and assistance most".
"I understand that the scheme has been brought together in just three months which is a great achievement by all concerned".
" I hope now that this positive change will be a step in the right direction with regards work needed to address the reliability of the service and the overall cost of flying to and from our islands".
// <![CDATA[ google_ad_client = "pub-8789619055654824"; /* 300x250, created 11/13/09 */ google_ad_slot = "3809754592"; google_ad_width = 300; google_ad_height = 250; // ]]>
Hebrides Today brings you the latest news from the Western Isles