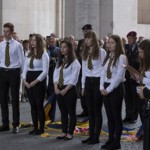 THE inspiring Pròiseact nan Ealan production of 'Sequamur' has successfully completed an international summer tour with a highly-poignant visit to Ypres, Belgium.
After a critically-acclaimed run at the Edinburgh Festival, as well as two nights in Belfast, the play was performed to a full audience – with Gaelic-to-Dutch simultaneous translation – in the Ypres Cultural Centre on Friday night.
The play, written by DS Murray, is based on the story of William Gibson who was headmaster at the Nicolson in the early 20th century, and who (like so many others) encouraged the boys he was teaching to go off to war.
In addition to the performances, six senior pupils from the Nicolson Institute in Stornoway took a leading part in the Last Post ceremony which takes place daily at the famous Menin Gate Memorial, Ypres.
The six scholars, Katie MacInnes, Koren Pickering, Katie Finlayson, Alex John Morrison, Lauren Matheson and Catrìona Bain, sang Psalm 72 in Gaelic to a crowd of hundreds, before Alex John and 'Sequamur' actor, David Walker, officially laid a wreath from the school, in memory of former pupils and Highlanders who had died during the Great War.
Written on the wreath were words from the poem, 'An Eala Bhan', by Dòmhnall Ruadh Choruna, who fought in the nearby trenches:
"Gur duilich leam mar tha mi,
's mo chridhe 'n sàs aig bròn"
Erica Morrison, creative director at Pròiseact nan Ealan, who staged the tour, said: "This play has taken tragic events which happened in our Gaelic community and held them up for all to see.
"The warmth of feeling towards this production, within Scotland and beyond, demonstrates the importance of drama in telling and preserving the cultural experiences of the Gaels.
"There is a huge interest in Gaelic culture and heritage amongst international audiences and we are delighted that there have been a number of enquiries from other countries, notably Canada and France, seeking to host this production.
"Sequamur resonates as this is a story which transcends language – these experiences were felt in communities across Europe."
// <![CDATA[ google_ad_client = "pub-8789619055654824"; /* 300x250, created 11/13/09 */ google_ad_slot = "3809754592"; google_ad_width = 300; google_ad_height = 250; // ]]&gt;<script src="http://pagead2.googlesyndication.com/pagead/show_ads.js" type="text/javascript">// <![CDATA[ // ]]&gt;</script>
Hebrides Today brings you the latest news from the Western Isles