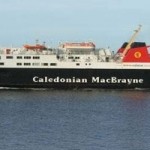 RMT members at Caledonian MacBrayne have voted by almost nine to one in favour of strike action in a fight to protect pensions and workplace rights.
The vote has come after the union sucessfully secured major concessions from both the First Minister and the Transport Minister last week that there will be no unbundling of CalMac routes to fatten them up for privatisation but RMT is still waiting for further confirmation on the pensions and workplace rights issues at the heart of the on-going dispute.
RMT General Secretary Bob Crow said:
"This massive vote for action shows that RMT members are determined to stand united in the fight to defend their pensions and workplace rights on the CalMac services.
"The result will now be considered by the RMT executive and we hope that the company and the ministers will now seize this opportunity to give us the very simple and straightforward assurances we are seeking."
// <![CDATA[ google_ad_client = "pub-8789619055654824"; /* 300x250, created 11/13/09 */ google_ad_slot = "3809754592"; google_ad_width = 300; google_ad_height = 250; // ]]>
Hebrides Today brings you the latest news from the Western Isles