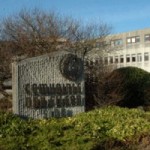 Comhairle nan Eilean Siar is launching a major community consultation which will help set the strategic priorities for the Comhairle for the next five years.  The 'Working Together for the Next Five Years' consultation gives partners and members of the public the chance to comment on the Comhairle's strategy going forward, looking at key areas such as population, schools, housing and the economy.
Responses can be submitted via online questionnaire on the Comhairle website: http://www.cne-siar.gov.uk/surveys/workingtogether.asp
Hard copies of the questionnaire will also be made available in council offices, libraries, and other appropriate outlets. These questionnaires should be returned to: Angus Murray, Chief Executive's Department, Comhairle nan Eilean Siar, Sandwick Road, Stornoway, Isle of Lewis, HS1 2BW (email angus-murray@cne-siar.gov.uk).
Comments can also be posted on the 'Working Together for the Next Five Years' Facebook page, which also links to the online questionnaire:https://www.facebook.com/#!/pages/Working-Together-for-the-Next-Five-Years/358854750849799.
Responses to the Working Together for the Next Five Years consultation can be returned up until the 30th of August 2012.
Cllr Angus Campbell, Leader of Comhairle nan Eilean Siar, said: "The Working Together for the Next Five Years consultation gives people the chance to have a say in what the Comhairle does over the next five years.  I would encourage as many people as possible to engage with the consultation and let us know what they think our priorities should be."
// <![CDATA[ google_ad_client = "pub-8789619055654824"; /* 300x250, created 11/13/09 */ google_ad_slot = "3809754592"; google_ad_width = 300; google_ad_height = 250; // ]]>
Hebrides Today brings you the latest news from the Western Isles