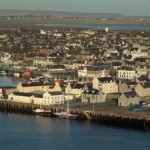 A new energy funding scheme for the Outer Hebrides has been launched in a bid to reduce energy costs for communities.
The initiative, which has been developed by renewable energy project charity group Community Energy Scotland (CES) in partnership with Highlands and Islands Enterprise (HIE), aims to assist with energy efficiency projects that contribute to community sustainability.
A £259,985 funding pot is being offered to businesses in local communities and is designed to address gaps in current support for community led renewable energy and energy efficiency projects within the Outer Hebrides.
The eighteen month scheme will be managed and administered by CES and gives communities the chance to win a grant of up to a maximum of £30,000.
Partners HIE and rural development programme providers LEADER Innse Gall Local Action Group (LAG) have each contributed £125,000 towards the fund.
LAG chairman Archie Campbell, said: "The fund will assist to improve the carbon footprint of communities and the implementation of renewable measures assisting them to receive additional benefits that otherwise would not have been available to them."
// <![CDATA[ google_ad_client = "pub-8789619055654824"; /* 300x250, created 11/13/09 */ google_ad_slot = "3809754592"; google_ad_width = 300; google_ad_height = 250; // ]]>
Hebrides Today brings you the latest news from the Western Isles