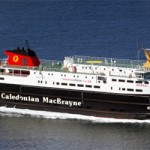 Following a meeting between representatives of communities on the Western Isles, Coll and Tiree with Transport Minister Keith Brown, SNP MSP Alasdair Allan and MP Angus MacNeil said the meeting had been "productive" and that they were confident that the minister understood the concerns of companies on the islands.
The Minister discussed RET, rising costs of fuel, VAT and insurance costs facing hauliers where the Westminster government are not doing enough to help, and what steps could be taken to reduce the impact of moving away from RET for hauliers and other companies using lorries..
In a joint statement after the meeting the Dr Allan and Angus MacNeil said "This was a useful and productive meeting and the Minister listened carefully to the communities' concerns, which were very clearly put.  The Scottish Government is investing £5 million in RET for non-commercial travel and that investment is vital, though the focus of the meeting today was on the future of fares for lorries.
"The Transport Minister was clear as he has been throughout, that his view is that the budget cannot sustain RET for haulage to the islands, but he has agreed to come back with proposals to address the companies' concerns and we
very much welcome that move.
"Businesses and communities have faced rising fuel, VAT and insurance costs and we made that clear to the minister.
"There were ideas put forward tonight including larger discounts, steps to ensure smaller hauliers do not lose out to larger hauliers
and a clear commitment from the minister that he wants to see a fair system of ferry fares in the future.
"We are confident that when the minister comes back to us he will have taken on board our concerns and we will see a system that takes account of the interests of the community."
// <![CDATA[ google_ad_client = "pub-8789619055654824"; /* 300x250, created 11/13/09 */ google_ad_slot = "3809754592"; google_ad_width = 300; google_ad_height = 250; // ]]>
Hebrides Today brings you the latest news from the Western Isles