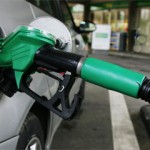 The Western Isles motorist already hit hard in the pocket for fuel will be praying for the introduction of a fuel regulator system sooner rather than later as the RAC Foundation warns that petrol prices could soar to £1.75 a litre.
Western Isles motorists already pay upwards of £1.40 a litre – some of the highest prices in the world – but this price would seem cheap if petrol were to attain the sky-high rates being touted by the motoring organisation.
"$147 a barrel"
The RAC Foundation believe fuel prices could hit £8 a gallon due to increased taxes and rising crude oil prices.
The prospect of prices rising to £1.75 a litre in outlying rural areas was raised by RAC Foundation spokesman Philip Gomm yesterday (Saturday).
He explained that for every $2 rise in the barrel of oil there tends to be an extra 1p at the pumps.  And whilst oil prices currently stand at $100 a barrel – a long way off from the historic high of $147 a barrel before the recession in 2008 – there was a possibility of them rising again.
He warned that if the economic recovery continues OPEC (the Organisation of the Petroleum Exporting Countries) could decide to limit the supply again pushing prices nearer to the record high of $147 a barrel.
// <![CDATA[ google_ad_client = "pub-8789619055654824"; /* 300x250, created 11/13/09 */ google_ad_slot = "3809754592"; google_ad_width = 300; google_ad_height = 250; // ]]>
Hebrides Today brings you the latest news from the Western Isles