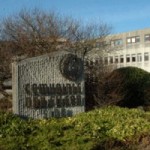 Comhairle nan Eilean Siar is introducing a new IP telephone system as from the 31st January 2011. This will result in new numbers for existing extensions.
The existing telephone system is becoming obsolete and can no longer effectively support the business requirements of the Comhairle. It is also at capacity at several locations and cannot be expanded. The new system has been successfully trialled in schools and at the main Comhairle offices.
Chair of ICT sub-committee Norman A Macdonald, said: "This new system will mean a modernised, improved telephone system for employees, service users and the general public. The Comhairle is using new technology to improve customer access to all its services and to reduce costs associated with the current system".
The new general number for the Comhairle will be 0845 6007090. Calls to this number can be distributed over the Comhairle network to create a virtual reception. Individual extension numbers will also change and the new list of direct dial numbers is on the Comhairle website. The new system uses the Comhairle's computer networks and means there will be no call charges to the Comhairle for all inter-office and school calls. There will also be savings from the decommissioning of leased lines. In addition, all Comhairle offices and schools will have a consistent infrastructure, reducing the maintenance and management costs associated with the current system.
The IP system will also provide more flexibility for remote and mobile working.
The number for Faire, the Comhairle's emergency and out of hours centre, will remain the same -01851 701702.
Details of the new extension numbers are available on the Comhairle website at http://www.cne-siar.gov.uk/
// <![CDATA[ google_ad_client = "pub-8789619055654824"; /* 300x250, created 11/13/09 */ google_ad_slot = "3809754592"; google_ad_width = 300; google_ad_height = 250; // ]]>
Hebrides Today brings you the latest news from the Western Isles