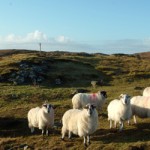 "Crofting Reform Bill"
A £100,000 fund is to be set up to help Scotland's crofters map out the boundaries of their land and secure ownership for future generations.
Environment Minister Roseanna Cunningham today announced that a discounted rate will be available to crofting groups who map the boundaries of their land and submit them to the Registers of Scotland.
The creation of a new map-based register of crofts is among the proposals within the Crofting Reform Bill currently undergoing Parliamentary scrutiny.
Ms Cunningham told the Scottish Parliament's Rural Affairs Committee:
"The future of crofting, and with it communities in some of our most remote rural areas, is under threat.
"The Crofting Reform (Scotland) Bill aims to tackle some of the key issues undermining this way of life and to ensure crofting can respond to the challenges of the 21st century.
"Time and time again we have been told that the lack of definitive croft boundaries and an official register of interests in croft land were major challenges.
"Therefore, we plan to introduce a crofting register to put an end to boundary disputes. To help achieve this, subsidies will be available to groups of 10 crofters or more who register at the same time.
"This will reduce conflict and create clarity on the extent of individual crofts and all rights associated with them."
"Registration will cost individual crofters £100″
The Crofting Reform Bill was introduced to Parliament in December 2009, and includes measures to reform the Crofters Commission, establish a Crofting Register and to tackle absenteeism, neglect and speculation.
The proposal to establish a definitive Crofting Register will require the compulsory registration of a croft in some circumstances and also includes provisions for voluntary registrations. Registration will cost individual crofters approximately £100 each. Subsidised group registrations will reduce the cost to individual crofters by approximately £20 per head.
// <![CDATA[ google_ad_client = "pub-8789619055654824"; /* 300x250, created 11/13/09 */ google_ad_slot = "3809754592"; google_ad_width = 300; google_ad_height = 250; // ]]>
Hebrides Today brings you the latest news from the Western Isles